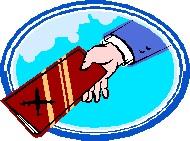 SHE WANTED TO TAKE THE KID TO ITALY WITHOUT THE DAD'S CONSENT?
The mother and father of a child born in 2018 agreed, within the context of a 2020 proceeding before the Tompkins Park Supreme Court, that they would share joint custody (with equal parenting time), and that, in the event of a dispute, the parties would seek mediation.
A couple of years later, in 2022, the mother wanted to take the kid to Italy, and opted to seek relief from the Supreme Court, while the father insisted that his objections needed to be heard by a mediator. When relief was granted in mom's favor, the dad appealed.
While the father contended that his due process rights were violated, the mother argued that the appeal was "moot," given that the trip had already occurred (by the time the matter was heard). And, interestingly, the Appellate Division, Third Department, agreed. Because it didn't think "the parties' rights and interests" would be "affected by the determination of the appeal," the AD3 left the outcome undisturbed. (It also didn't think the exception to the "mootness doctrine" applied.)
Was there no mediating that?
# # #
DECISION