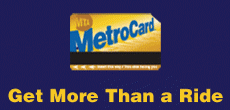 ATTEMPTING TO FLEE DIDN'T HELP HIM ONE BIT
After he was convicted of "attempted criminal possession of a forged instrument in the third degree, unlawful sale or reproduction of a Metrocard, unlawful solicitation in the subway, and loitering," C.C. appealed to the Appellate Term, First Department, challenging, among other things, the sufficiency and weight of the evidence.
On its review of the record, the AT1 noted that 9 out of 29 Metrocards found in C.C.'s possession had manipulated magnetic strips which, according to the decision, "obliterates" the encoded data and facilitates free access to the subway system. Apparently, one of those cards was used to allow an undercover officer entry (in exchange for a $2 fee payable to C.C.). And once the officer identified himself, C.C. purportedly attempted to flee – which "supported the inference that defendant knowingly possessed the altered cards with the intent to defraud … and further supported his guilt."
Given the legal sufficiency of the evidence against him, and in the absence of any defects in the accusatory instrument, C.C.'s conviction was left undisturbed.
Would you call this guy a real card?
# # #
DECISION