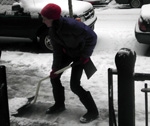 WAS UNABLE TO DEMONSTRATE BAD WEATHER WAS UNDERWAY AT TIME OF WOMAN'S FALL
After she fell on some ice – situated on an exterior staircase owned by Whispering Hills Home Owners Association, Inc. –L.C.S. filed a personal injury case with the Orange County Supreme Court. When the Association moved [via motion for summary judgment] for pre-trial dismissal of the case, the court granted the request.
But on appeal, the Appellate Division, Second Department, thought the Association hadn't shown a "prima facie entitlement to a judgment as a matter of law." Among other things, the claim that inclement weather somehow negated its liability wasn't adequately demonstrated. Not only had L.C.S. testified that there wasn't a "storm in progress" at the time she fell on the stairs, but the Association also failed to "eliminate triable issues of fact," such as whether she fell on a "pre-existing condition," and whether the Association had "notice" of its existence.
Given those deficiencies, the AD2 concluded that the motion should have been denied and reversed the underlying dismissal order.
Looks like the Association's arguments didn't cut any ice there.
# # #