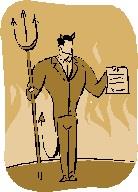 CONTRACT TERMINATION PRECLUDED SPECIFIC PERFORMANCE
After the Bronx County Supreme Court dismissed B's action for specific performance, he appealed to the Appellate Division, First Department.
On its review of the dispute, the AD1 noted that upon defendant's alleged breach, B had "affirmatively and undisputedly elected to terminate the contract instead of ignoring the breach and continuing to perform," and was thus found to have "waived and abandoned any claim for specific performance."
Given that backdrop, the AD1 thought that court below had "properly determined" the defendant's motion for summary judgment and dismissed the case.
I guess the devil is in the details ....
# # #
DECISION