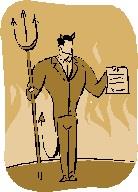 AGREEMENT NEGOTIATED BY SOPHISTICATED PARTIES WASN'T "UNJUST"
When a commercial tenant failed to make a final payment required by a stipulation of settlement resolving a nonpayment proceeding, the landlord served a notice of default. After the tenant failed to cure within the delineated five-day period, the New York County Civil Court eventually granted the landlord's motion to proceed with an eviction.
On appeal, the Appellate Term, First Department, noted that the agreement wasn't "unjust" and was fully enforceable, as it had been "negotiated by sophisticated parties, all of whom were represented by counsel." Given that the default "was neither inadvertent nor trivial," the AT1 could find no basis to modify the underlying determination.
The tenant's contention that the default notice was "void," because it violated a then applicable COVID related Executive Order, was rebuffed for having been raised for the first time in a reply brief (and the landlord had not been given an opportunity to respond). In any event, the AT1 didn't find this particular notice violative of the restrictions that were then in place.
As for the tenant's claim of "economic difficulties during the pandemic," the AT1 was of the view that didn't excuse the tenant's performance pursuant to the terms of the parties' agreement.
Can you find fault with that?
# # #
DECISION