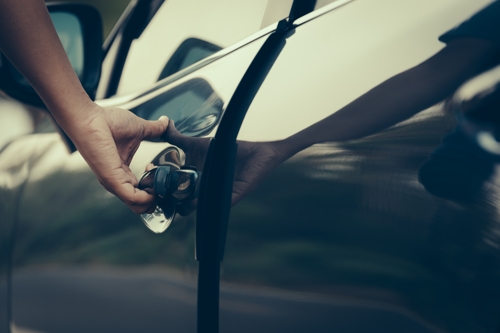 DON'T OPEN THE DRIVER'S SIDE DOOR WHILE ONCOMING TRAFFIC IS APPROACHING!
After L.D. opened the front driver's side door of his parked car, the door was hit by a passing box truck that was owned by Kharieh Brothers, leased to CBS Corporation, and operated by S.M..
When L.D. filed suit seeking to recover damages for his personal injuries, the defendants sought, and were granted, pre-trial relief in their favor dismissing the case, and an appeal followed.
And on its review, the Appellate Division, Second Department, noted that S.M. and CBS demonstrated that L.D. had violated state law -- Vehicle and Traffic Law § 1214 -- when he opened his car door when it wasn't "reasonably safe to do so, and was negligent in failing to see what, by the reasonable use of his senses, he should have seen, and that this negligence was the sole proximate cause of the accident."
Since S.M. and CBS weren't at fault, they were properly let out of the case.
As for Kharieh Brothers, the AD2 noted that federal law shielded owners of leased vehicles as long as they were engaged in no negligence or wrongdoing. And, in this instance, since it was free of any responsibility for what transpired, the lessor was also rightfully entitled to dismissal.
Apparently, that case was pretty much open and shut.
# # #
DECISION