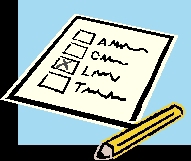 THERE WAS NO "CLEAR AND CONVINCING EVIDENCE" OF ELECTION LAW FRAUD
After the Rockland County Supreme Court found Scott B. Ugell ineligible to be a candidate for Town Supervisor out in Clarkston, because he was then a Town Justice, and the petitioning process was "permeated with fraud," Ugell appealed.
On its review the Appellate Division, Second Department, was of the view that there was nothing in the Election Law and/or the Rules Governing Judicial Conduct which warranted Ugell's disqualification – in that his position as Town Justice didn't prevent him from running for another office.
And since the proper evidentiary standard in an Election Law proceeding was "clear and convincing evidence" of fraud, because the AD2 thought the record was muddied with "conflicting" and "incredible" testimony, and, failed to evince "actual deception of the voters or members of the party involved" (in a "clear and convincing" way), the underlying determination was reversed and the challenge of Ugell's candidacy was dismissed.
Think they found that clear and convincing?
# # #
DECISION