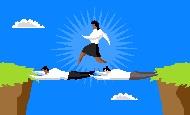 CROSSED AGAINST THE LIGHT AND WAS KILLED
E. Leathers was killed on Bruckner Blvd & East 138th Street, in the Bronx, when she was hit by a Mack Tanker truck owned by Approved Oil.
In response to the parties' motions, the Bronx County Supreme Court denied their respective requests for judgment on the issue of liability. But, on appeal, the Appellate Division, First Department, thought that defendants should have been awarded partial relief here.
While it agreed that there were some questions as to whether "defendants were negligent, based on the conflicting evidence concerning whether defendant driver was driving faster than the speed limit and whether he had an unobstructed view of decedent as she was crossing the street in the crosswalk." Since it was an "uncontroverted fact" that Leathers was crossing the street "against the light," while the driver had a green light in his favor, the AD1 decided that lower court's order needed to be modified to reflect Leathers' negligence.
Whether Leathers was entirely responsible for the accident, or whether the parties were "comparatively negligent," were questions that were best left for trial.
We ain't about to cross any of them, that's for sure. (But they say fossil fuels will be the death of us all!)
# # #
DECISION