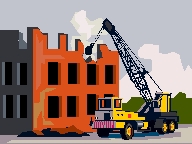 IT ALL FELL APART FOR ONE INSURER
On August 6, 2018, after some bricks fell from the facade of the buildings situated at 154 and 156 Eighth Avenue (Manhattan), police restricted access to the structures until sidewalk sheds could be erected. When the owner later sought its insurers to cover the damages and losses stemming from the incident, both Wesco Insurance and Union Mutual Fire Insurance disclaimed liability, alleging (among other things) that a collapse exclusion applied.
And in response to a case filed by the owner with the New York County Supreme Court, a judge ended up siding with the insurers and dismissed the case.
When it got the dispute, the Appellate Division, First Department, looked at the policies' language and thought the insurers were liable for an "abrupt collapse," which was defined as "an abrupt falling down or caving in of a building or any part of a building with the result that the building or part of the building cannot be occupied for its intended purpose." As the court noted in its decision, the policies did cover "collapse by defective construction, where the collapse was allegedly caused in part by hidden, unknown decay."
Since Wesco wasn't able to show that coverage didn't apply in this instance, and because there were conflicting expert opinions on whether the property owner knew about the decay in question, the AD1 reinstated the case as against that insurer.
Union Mutual, on the other hand, presented photographic evidence which reinforced that 154 Eighth Avenue, the building it covered, "remained intact," and that it didn't suffer from any "falling down or caving in," so the AD1 allowed the dismissal of the case as against that party to stand.
Think Union Mutual collapsed with glee?
# # #
DECISION