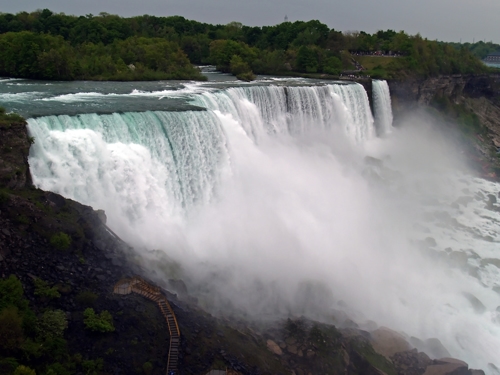 WATER BOARD NOT LIABLE FOR INJURY
Daniel Beck sued the City of Niagara Falls, and others, including the Niagara Falls Water Board, claiming they were responsible for a dangerous condition which contributed to his injury.
As he was assisting a colleague transport a steel beam which had been clamped onto a forklift -- which was traversing an intersection (at 56th Street and Simmons Avenue, in Niagara Falls) -- the powered truck hit "one or more potholes," which caused the beam to fall and injure Beck's foot.  Since it disclaimed responsibility for the incident, the Water Board asked to be released from the case, but the Niagara County Supreme Court denied that request.
On appeal, the Appellate Division, Fourth Department, thought that determination was made in error, because to be liable for a dangerous condition, there must be "'occupancy, ownership, control or a special use of [the] premises.'" And since the Water Board "'neither owned nor made special use of [Simmons Avenue], and had no … connection to the condition' that caused the accident," the AD4 was of the view that public agency wasn't a proper party to the litigation.
How's that for some Water-Boarding torture?
# # #
DECISION