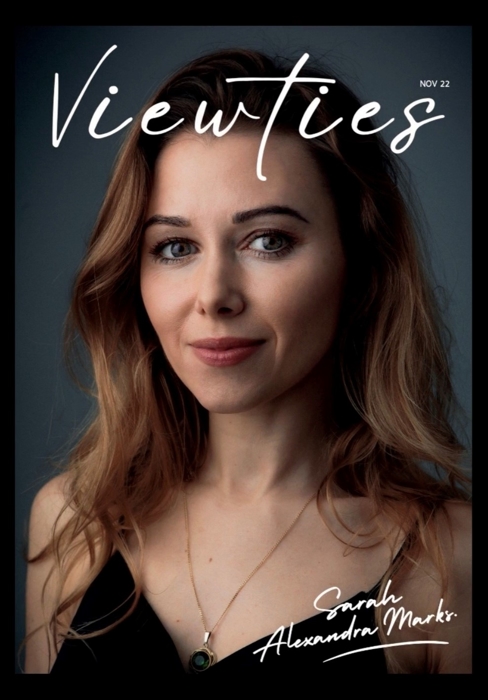 VIEWTIES – a UK-based digital publication founded by Vanesa Miraglia – spotlights creatives from across the globe. Recently, Vanesa sat with Sarah Alexandra Marks, a British actress who has appeared in several feature films (including a couple of mine).
In her typical fashion, Vanesa asked Sarah a bunch of probing questions, among them:
"V: You grew up as a dancer and then switched to acting …. [Was] acting something you always wanted to do….?
S: I've always loved performing, from my earliest memory of being the 'comedy entertainment' for my parents and brother at home through to my career as a dancer which I ultimately had to leave due to some injuries that were accruing. The next logical step was to transition into acting so I could keep the flame burning. Performing is all I have ever wanted to do - ironic seeing that I was such a shy young girl.
V: Let's talk about your work in ''Wi†ch,'' by Craig Hinde and Marc Zammit now. Tell me about your character, and what was important to you to convey the audience in your interpretation?
S: 'Witch' was … my first time working with Craig and Marc ….They had assembled such a wonderful cast & crew, the set was phenomenal! I remember just feeling so happy inhabiting every aspect of it, from dances we made up behind the scenes to moments where my character was going through her most complex time. In all honesty, when I bring a character to life I am not thinking about the audience, I lift her from the page in a way that is authentic for me … [and that] translates best to the person staring at the screen."
To read more, click: https://viewties.co.uk/wp-content/uploads/2022/11/SARAH-ALEXANDRA-MARKS-ISSUE.pdf or here: SARAH ALEXANDRA MARKS PROFILE
Could these ladies be any more wickedly wonderful?
# # #
To view a list of Lucas's projects, click here: https://www.imdb.com/name/nm11739610/
# # #
#lucasaferrara #interview #interviews #profile #writers #profiles #director #directors #film #films #movie #movies #actor #actors #acting #moviemaking #moviemaker #moviemakers #creative #creatives #art #arts #shortfilm #screenwriter #screenplay #filmmaker #filmmakers