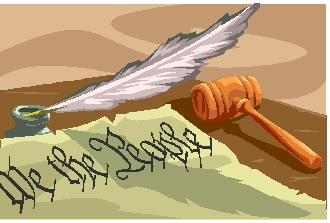 HSTPA WITHSTANDS CONSTITUTIONAL CHALLENGE
Earlier this week, another federal court judge concluded that New York's rent laws are not violative of our country's Constitution.
Several landlord groups -- including Community Housing Improvement Program (CHIP) and the Rent Stabilization Association (RSA) -- challenged the legality of the Housing Stability and Tenant Protection Act (HSTPA) and alleged that the new legislation punished owners for improving their properties, and violated the Fifth Amendment to the United States Constitution. (The "takings" clause of the fifth amendment limits the state's ability to acquire private property for public use, without offering just compensation.)
Judge Eric Komitee, who was appointed to the bench by President Trump in 2019, dismissed the lawsuit, holding that the state had a right to adopt rent regulations. In his decision, the Judge noted that, "[r]ent regulations have now been the subject of almost a hundred years of case law. . . That case law supports a broad conception of government power to regulate rents, including in ways that may diminish—even significantly—the value of landlords' property." Judge Komitee also cited to earlier cases, which found that changes to the rent law did not constitute a "physical invasion by government" and instead simply adjusted "the benefits and burdens of economic life to promote the common good."
In response to the decision, a spokesperson for CHIP and RSA remarked, "[w]e recognized when we began this case that the district court might interpret prior decisions by the Court of Appeals, and even older rulings by the Supreme Court, to preclude our claims . . . As the opinion states, it's not for a lower court to reverse this tide — so while we respectfully disagree with the decision, we aren't surprised by it." The spokesperson continued, "[w]e think the appeals process will bring about success for the case — and at a time where fundamental questions about the future of housing in New York are being driven by current events, that success can't come soon enough."
Tenant advocates, however, seem unfazed. "We're confident that the laws we passed are legally sound," said Cea Weaver, who helped push the new legislation through. Ellen Davidson, of the Legal Aid Society, believes that the Second Circuit, and even the Supreme Court, despite its conservative lean, will be likely to dismiss the landlords' claims just as "quickly and easily" as the District Court.
While HSTPA may have survived this round, there lies a bigger existential threat to New York's rent protection programs—and that is the large number of New Yorkers fleeing the city due to the pandemic (and an array of other socio-economic factors). The consequent high apartment vacancy could possibly signal the end of New York's "housing emergency," which could trigger the end of rent regulation.
# # #
Click here to find out why a vacancy rate in excess of 5% could eventually cause regulated tenants to lose their protections.
Click here to read our series covering the changes triggered by HSTPA's enactment.