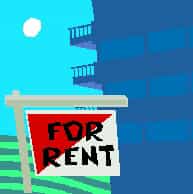 RISING VACANCIES MAY SIGNAL RENT REGULATION'S DEMISE
Since many schools and businesses have transitioned to "virtual-only," people are starting to question why they should remain in the NYC area. With a record number of empty apartments, and with falling rental prices, now is a good time to be looking for a new place to live. But for some, particularly rent regulated tenants, this trend could spell some real trouble.
New York's system of rent regulation controls the amount of rent a landlord may charge for certain residential dwellings. For scores of years, the need for such protection was justified on the basis that New York has been under a "housing emergency," which, pursuant to a statutory definition, is triggered when less than 5% of the city's total residential apartments are available for rent.
And for the longest time, due to high demand, New York's vacancy rates remained below 5%, meaning that the rent protections continued. But due to the quality-of-life issues that have arisen (such as the substantial uptick in crime and homelessness), and the pandemic-induced mass exodus, experts are of the view that the city's vacancy rate may have eclipsed that 5% threshold.
A key official vacancy survey is set to begin next year, and depending on its findings, the longstanding argument for rent regulation—which some landlords have argued violates the U.S. Constitution—could disappear. (The Rent Stabilization Law requires the city to conduct a vacancy survey every three years. The last survey, conducted in 2017, found that New York had a 3.63% vacancy rate. The next official count was initially scheduled for this year, (2020), but state lawmakers decided to postpone the survey until 2021 because of the coronavirus.)
And if local politicians, like State Senator Brad Hoylman and State Assemblyman Harvey Epstein, have their way, the official vacancy survey may get pushed out even further. The two have introduced a bill which seeks to postpone the official count of the city's vacancy rate, until at least two years after the state declares the COVID-19 emergency to be over. Until that time, the new law proposes that the "housing emergency" status be extended, so that rent regulations continue in effect, regardless of the actual vacancy rate.
Promoting the bill, Sen. Hoylman said, "[r]ent stabilized tenants should not have this hanging over their head, that because of the pandemic and because of the vacancies they could lose very important protections[.]" Assemblyman Epstein noted that the goal of the legislation was to avoid having the next survey be impacted by temporary changes in residency, due to New Yorkers electing "short-term, not to stay" in the city.
Of course, the proposed legislation has been criticized by pro-landlord groups. Kimberly Winston, a spokesperson for Rent Stabilization Association of NYC and the Community Housing Improvement Program (CHIP), which both represent landlords, remarked, "[t]his shows our elected officials aren't interested in what's really happening in the housing market or in solving problems . .. They want to continue the disastrous policies of the last 50 years by penalizing property owners and pandering to constituencies they're afraid of — and that is a terrible way to govern."
By contrast, Cea Weaver, of the Housing Justice For All coalition, expressed support for the bill, observing that a "temporary and probably unusual increase" in the vacancy rate should not be allowed to undo decades-worth of effort to ensure that rent regulated tenants are protected.
It remains to be seen if (and when) the legislation makes it to Gov. Cuomo's desk, whether he will veto or sign it into law.