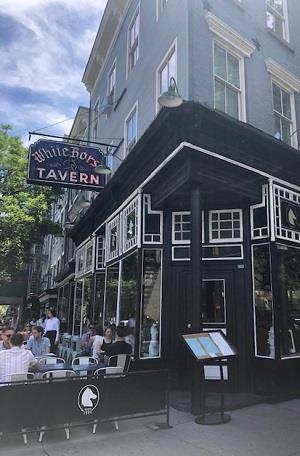 No Social Distancing Leads to Suspension of White Horse Tavern's Liquor License
On July 7, 2020, the New York State Liquor Authority ("SLA") suspended the liquor license of the historic Manhattan watering hole -- White Horse Tavern -- for "repeatedly violating the Governor's Executive Order, which required bars and restaurants to adhere to social distancing guidelines in order to combat the spread of the coronavirus."[1]
The establishment, founded in 1880 and which has continuously operated at its 567 Hudson Street location in Greenwich Village, was charged with some thirty (30) violations, including multiple counts of breaching COVID-19 restrictions.
According to the SLA and the New York City Police Department ("NYPD"), White Horse was operating an illegal bar outside of the building. While the City was under lockdown in early June (before restaurants were authorized to host outdoor drinking or dining), an undercover SLA investigator was able to purchase alcohol (without food) and multiple people were observed patronizing the establishment.
The NYPD also received complaints of noise and social distancing violations, and found an illegal wooden patio platform extending dangerously out onto the street. Per the NYPD, the bar's owner or manager was issued a warning, but the conduct continued, with a 311 call leading to the discovery of a crowd of approximately 100 patrons on the sidewalk on June 27th and, again, on July 4th. (The NYPD noted that many in the crowd were neither wearing masks nor observing social distancing practices.)
In support of the agency's decision to suspend the bar's license (rather than provide White Horse with an opportunity to appear at a hearing), SLA Chairman Vincent Bradley noted that "[d]espite numerous warnings, this licensee continued to recklessly violate protocols that have helped to dramatically slow the spread of the coronavirus throughout New York," adding that the SLA "will not hesitate to take action against licensees who jeopardize lives and threaten the progress our state has made." The suspension was ordered by Mr. Bradley, along with SLA commissioners Lily Fan and Greeley Ford, at a special meeting of the Full Board which took place the day after the charges were levied against the tavern.
This is not the first-time punishment has being handed down for failure to observe COVID-19 restrictions. As we have previously reported, back in April, a Brooklyn Man was arrested and fined for operating a gambling den and illegal bar which, among other things, violated the social gatherings prohibitions.[2]
White Horse will now be entitled to an expedited hearing before an Administrative Law Judge, where the merits of the charges will be evaluated and the establishment will have an opportunity to raise any defenses it may have, in a bid to have its license reinstated.
The owners of the Tavern (which operates in a building partially owned by the notorious landlord, Steven Croman)[3] have decided to defend themselves by way of a Facebook post and allege that they were "overwhelmed," and admitted that they weren't prepared for the overcrowding.[4] The owners further claim that they are not asking for "special treatment" but want people to understand that they used their best efforts to adapt and come up with solutions to keep their staff and patrons safe.
(Yeh, right. Tell that to the Judge!)
---