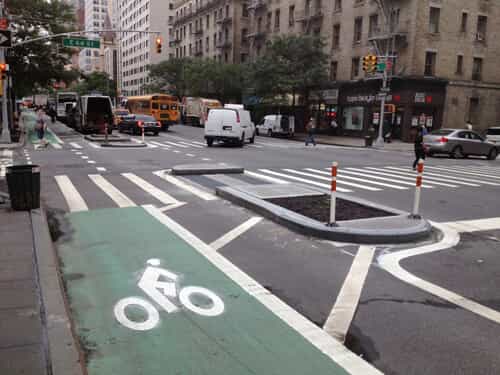 In September, we reported about dangers cyclists pose to pedestrians. And on October 23, Mayor Bill de Blasio and the Department of Transportation (DOT) announced a new plan to enhance the safety of the City's bike lanes.  But, again, the focus is on cyclists and increasing the number of bike lanes, rather than addressing the dangers that this additional transporation mode is presenting to the public.  
"Vision Zero means making sure people on bikes in every neighborhood feel safe—whether they're in Boerum Hill, Bath Beach or Bushwick," said Mayor Bill de Blasio. "With our 'green wave' plan, we're doubling down on our commitment to end senseless traffic fatalities."
Other precautions include lowering the speed limit along certain roads, including Linden Boulevard, which has had 14 fatalities since 2013.
Additional bike lanes are now slated for:
--4th Avenue (between 15th and 60th Streets), South Slope/Sunset Park;
--Shore Parkway (between Bay Parkway and Bay 53rd Street), Bath Beach; and
--7th Avenue (between 65th and 84th Streets), Bay Ridge'
"While we celebrate today's historic milestone, we are mindful of the remaining challenges we face to ensure anyone who rides a bicycle in New York City feels safe and won't have their ride end in tragedy," said Deputy Mayor Laura Anglin.
"It's interesting that the Mayor's Office is conspiciously silent on the increasing number of pedestrian accidents and deaths that these bike lanes and reckless cyclists are triggering," said Jonathan H. Newman, Senior Partner at Newman Ferrara LLP.   "It will likely take a bunch of personal injury lawsuits, before officials finally realize that this expansion plan may be ill-conceived, and not aligned with the interests of 'all' New Yorkers."
# # #
To read the full press statement, click here.
# # #
For the latest updates, follow Newman Ferrara on Twitter, Facebook, and LinkedIn.