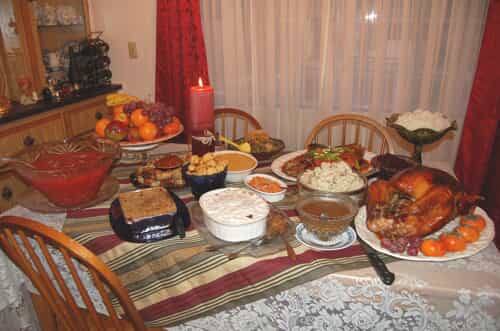 Hoping to avoid Thanksgiving with the in-laws this holiday season? Try swiping your MetroCard and hopping onto one of the MTA's subway cars for a feast.
On Sunday, a massive Thanksgiving celebration occurred on a Brooklyn-bound L train. Organized by stand-up comedian Jodell "Joe Show" Lewis, passengers were treated to a table filled with an array of edible goodies.
Lewis claims he targeted that particular subway line because commuters looked so unhappy. He told the New York Post, "I chose the L line after waiting 20 minutes for a train to take me to Brooklyn and seeing how dreary and upset riders were at the inconvenience the new construction triggered."
The festivities were featured on Lewis's Instagram page, where a full car's worth of people can be seen enjoying turkey, mashed potatoes, cranberry sauce and other Thanksgiving classics. The crowd seemed thrilled to be a part of the gag.
A man in one of the Instagram clips can be seen giving a toast, thanking the "heavenly father" for "bringing us all together on this Thanksgiving Day." Other participants can be seen raising their glasses in concurrence.
In response to the stunt, MTA spokesperson Shams Trek noted that "it's always nice to see people enjoying the subway but remember our employees work hard to keep the system clean and get riders on and off trains quickly."
We're surprised Lewis didn't get fined and/or arrested. (Hope he's giving thanks for that.)