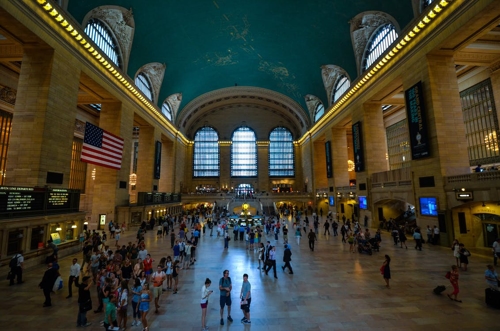 From the Oyster Bar to Shake Shack, Grand Central Terminal is certainly not lacking in food choices. Since the beautiful architecture attracts tourists from around the world, many feel it's necessary to provide appealing culinary choices for all.
The dining options are primarily split between upper-level, sit-down restaurants to a lower-level food court. Above the ticket windows, you'll find the popular, high-end "Cipriani Dolci," while other establishments can be spotted as you walk through the lobby areas of the MetLife building. However, the informal eateries in the basement (near some of the track-entrance) areas, are struggling to stay open.
The proprietors of these lower-level establishments are complaining about weak internet connections, outdated seating areas, and poor conditions, in general.
"Some restaurateurs say they are contemplating pulling up stakes from Grand Central Terminal's lower dining level because of high rents, sluggish sales, poor retail conditions and a growing homeless problem," reads the Wall Street Journal.
In addition to a rodent and vermin infestation, the lower level has become a shelter for the homeless, as they are spotted in the restrooms, stairways and other areas. Joe Germanotta, the owner of the Art Bird and Whisky Bar, is displeased with the existing conditions, noting that he has invested $1.8 million in the downstairs location and has a lease which calls for a rent of roughly $50,000 a month.
"If I had known this before I sunk all the money into this space, I wouldn't have done it," Germanotta noted.
Germanotta, father of pop star Lady Gaga, managed to get the MTA to reduce his payments by almost $20,000 per month. However, the MTA isn'thappy with that, either. "We want success for every one of the businesses that operate in Grand Central. We're not, however, their business consultants" said Tim Minton, an MTA spokesperson.
The MTA is expected to begin renovations to help improve conditions starting in March of 2020.
# # #
To read the full Wall Street Journal report, click here: https://www.wsj.com/articles/some-restaurants-in-grand-central-terminal-struggle-to-stay-open-11575205200