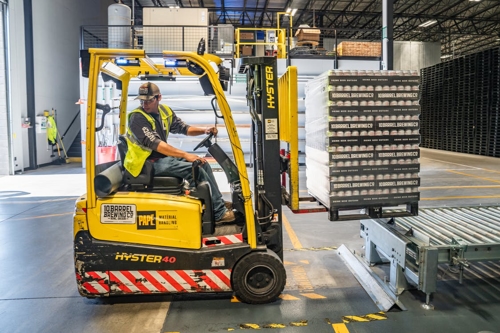 Even though its plans to set up shop in Long Island City were kyboshed by local politicos, and despite having opened a state-of-the-art, 855,000-square-foot facility in Staten Island (just last year), Amazon still has its eyes set on leasing a Queens warehouse for use as a new distribution center. 
Crain's New York is reporting that a Maspeth (Grand Avenue) site would "serve as a staging area for the last-mile deliveries that have become one of the lynchpins of Amazon's strategy for online shopping dominance."  
Located at 55-15 Grand Avenue, the property reportedly offers some 700,000 square feet of space and is considered an ideal location because of its proximity to neighborhoods in Brooklyn, Queens, Manhattan and the Bronx.  
"It makes sense that if you're trying to deliver to Queens you ought to have a hub in Queens and other areas that cater to population centers in the city," said Joseph Taylor, the CEO of Matrix – the developer of the Staten Island warehouse.  
Interestingly, the Retail, Wholesale and Department Store Union is actively campaigning to unionize the Staten Island workers. And while that effort has thus far been unsuccessful, the opening of the Queens warehouse is expected to fuel additional controversy between Amazon and City officials.  
Amazon "controversially told the City Council that it would not remain neutral in any campaigns to unionize its employees here," notes Crain's. 
"Let's hope politicians don't screw this deal up, too," noted Jonathan H. Newman, senior partner at Newman Ferrara LLP.  "It would bring much needed jobs, and additional tax revenue, into the area.  And despite all those naysayers, the company's presence would likely be a 'win-win' for all concerned." 
# # # 
To read Crain's full report, click here: https://www.crainsnewyork.com/real-estate/amazon-closes-deal-new-queens-delivery-hub 
 Read how warehouses have become more valuable assets, here: https://www.nyrealestatelawblog.com/manhattan-litigation-blog/2019/november/storing-the-stuff-you-buy/ 
# # #
Should you need assistance with a real-estate matter, please do not hesitate to contact one of our attorneys at 212-619-5400.