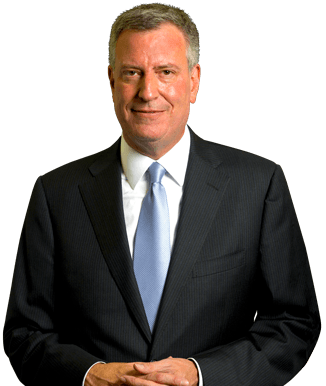 Mayor de Blasio and Chancellor Fariña Announce Continuing Gains for NYC Students on State Exams
Since 2013, English proficiency has increased by 54 percent and math proficiency has increased by 27 percent
Mayor Bill de Blasio and Schools Chancellor Carmen Fariña recently announced New York City students' gains on State English and math exams. In 2017, 40.6 percent of students met proficiency standards in English, a 2.6 point increase from 38.0 percent last year. City students outperformed their New York State peers in English for the first time last year, and widened the gap with this year's results. 37.8 percent of students met the standards in math, a 1.3 point increase from 36.4 percent last year. New York City students' proficiency in both subjects improved across all ethnic groups. Since 2013, the percentage of students proficient in English in New York City has increased by 54 percent. The percentage of students proficient in math has increased by 27 percent.
"These improvements over the past four years represent painstaking work – student by student, classroom by classroom, and school by school. It's steady progress towards a stronger and fairer system for all," said Mayor Bill de Blasio. "We are focused on building on these gains and others – such as the highest-ever high school graduation rate – to deliver equity and excellence for every public school student across the City, no matter their zip code."
"Our students' performance on these exams represents sustained growth across every demographic group and every borough, and it's one more measure on which New York City schools are the strongest they've ever been," said Schools Chancellor Carmen Fariña. "It's important to celebrate our progress – and thank the educators and school staff, parents and families, and students themselves who made this possible – but we need to keep making progress and pushing towards equity and excellence for all students. We're hard at work building on our progress to do even better for our students, families, and the City's future."
Additional Key Findings
For the 4th year in the row, English results improved in each of the City's 32 Community School Districts across all five boroughs.
Last year, for the first time since standardized testing was put in place for all grades in 2006, New York City students eliminated the gap with their New York State peers in English. This year, City students widened the gap with their New York State peers on the English exam, and now outperform them by 1.4 points.
New York City students also slightly outgained their New York State peers in math, shrinking the gap from 4.8 points to 4.2 points.
Renewal Schools made outsized gains in English and math – 3.2 percentage points compared to the citywide increase of 2.6 points in English, and 1.5 points compared to the citywide increase of 1.3 points in math.
About 3.0 percent of New York City students opted out of English exams and 3.5 percent opted out of math. A total of 17,234 students, or 4.0 percent, out of either exam. Statewide, 19 percent of students opted out of the testing process.
The sustained progress on State exam results across every single year of this administration reflects unprecedented investments in Equity and Excellence for All at New York City schools, including in leadership and professional development.
In 2014, all superintendents were required to re-apply for their jobs to ensure the strongest leaders were in place, and exam results improved across all 32 of the Community Superintendents' districts in English, and in 27 districts in math. Since 2014, the City has also made strengthening instruction through high-quality, Common Core-aligned professional development and educator resources a priority, including adding 80 minutes of high-quality professional development each week for teachers across all subjects.
Overall Results by Grade:
English

Grade

2017 # Tested

% 2017 L3+4

% 2016 L3+4

Pct Point Diff.

3

68,406

42.6

40.9

1.7

4

69,941

42.0

41.4

0.6

5

67,157

36.1

34.1

2.0

6

64,965

32.3

34.7

-2.4

7

63,681

43.3

36.0

7.3

8

63,298

47.5

40.5

7.0

All

397,448

40.6

38.0

2.6
Math

Grade

2017 # Tested

% 2017 L3+4

% 2016L3+4

Pct Point Diff.

3

70,040

46.0

41.0

5.0

4

71,436

40.0

41.4

-1.4

5

68,373

40.8

37.5

3.3

6

66,288

36.1

36.9

-0.8

7

64,505

35.9

34.0

1.9

8

53,102

24.2

25.0

-0.8

All

393,744

37.8

36.4

1.3
NOTE: A change in State testing policy, starting in 2014, has driven a decrease in eighth grade proficiency rates. To reduce double testing, most students in accelerated math who took the Algebra Regents exam are exempt from taking the 8th grade State math assessment.
In 2017, 19,485 8th-graders took the June Algebra Regents, a 15 percent increase from 2016, when 16,972 8th-graders took the exam.
Overall Results by Demographic:
English

Subgroup

2017 # Tested

% 2017 L3+4

% 2016 L3+4

Pct Point Diff.

Asian

71,739

61.0

58.8

2.2

Black

90,316

28.9

26.6

2.3

Hispanic

163,590

29.7

27.2

2.4

White

63,800

61.0

58.9

2.2

Current ELL

48,169

5.6

4.4

1.2

Ever ELL

59,652

49.1

43.2

5.9

SWD

83,986

10.7

9.3

1.3
Math

2017 # Tested

% 2017 L3+4

% 2016L3+4

Pct Point Diff.

Asian

71,285

67.8

67.2

0.7

Black

88,220

20.7

20.0

0.7

Hispanic

164,130

25.3

24.3

1.0

White

62,391

59.0

57.8

1.2

Current ELL

57,612

14.7

13.0

1.7

Ever ELL

57,293

49.7

46.8

2.9

SWD

82,675

11.8

11.4

0.4
Overall Results for Renewal Schools:
Students at the 57 Renewal Schools serving elementary and middle school grades made progress that outpaced the rest of the City this year. Proficiency on the State English exam increased 3.2 percentage points, while proficiency on the State math exam increased 1.5 percentage points -- compared to the citywide increase of 2.6 percentage points in English and 1.3 percentage points in math. Overall, English exam proficiency increased at 47 of these 57 schools, while proficiency on the math exam increased at 34 of the 57 schools.
To support this progress, each Renewal School receives:
Five hours of extended learning time for every student every week.
Targeted curriculum and leadership development from their Director of School Renewal and the DOE that includes school-embedded coaching and training to use data to identify and support struggling students.
A wide range of Community School services including social-emotional and mental health supports.
100 percent of their Fair Student Funding level.
Across all schools, the City will continue to build on this sustained progress, as well as record-high graduation rates, record-high college enrollment rates, record-low dropout rates, and a high-quality pre-K seat for every New York City 4-year-old. The Mayor and Chancellor's Equity and Excellence for All agenda is building a pathway to success in college and careers for all students.
Our schools are starting earlier – free, full-day, high-quality education for three-year-olds and four-year-olds through 3-K for All and Pre-K for All. They are strengthening foundational skills and instruction earlier – Universal Literacy so that every student is reading on grade level by the end of 2nd grade; and Algebra for All to improve elementary- and middle-school math instruction and ensure that all 8th graders have access to algebra. They are offering students more challenging, hands-on, college and career-aligned coursework – Computer Science for All brings 21st-century computer science instruction to every school, and AP for All will give all high school students access to at least five Advanced Placement courses. Along the way, they are giving students and families additional support through College Access for All, Single Shepherd, and investment in Community Schools. Efforts to create more diverse and inclusive classrooms through Diversity in New York City Public Schools, the City's school diversity plan, are central to this pathway.
Parents can learn more about the tests at NYSED's EngageNY website, and can view their child's test results on their NYC Schools account – a parent-friendly platform for viewing a student's records on any Internet-ready device, including mobile phones. Parents who have not already registered for an account at their child's school and would like to view their child's results before the start of the school year can visit the office of their community superintendent. Interpretation services will be provided. A full list of the superintendents and their office addresses is available here.
State test scores are one measure of a child's ability that schools and families can use to understand student progress, as well as areas for improvement. The City has directed principals to explain the results and their role in the school's vision at "meet the staff" nights this fall, and has directed parent coordinators to host workshops for parents on how to use their child's test scores. Parents and families should speak with their principals, parent coordinator, and child's teachers about the test scores in September.
More information on NYC test score results is available here.