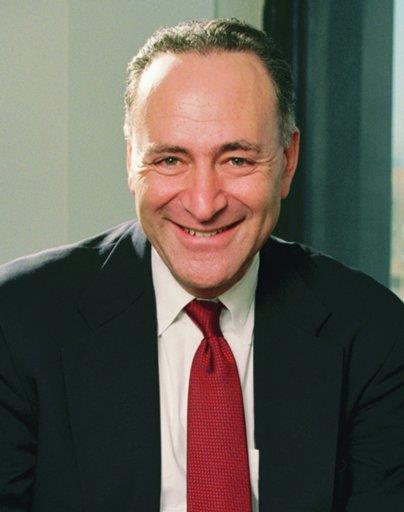 SCHUMER: STATEN ISLAND HAS HIGHEST RATE OF TEEN E-CIG USE IN NYC, WITH USE OF E-CIGS BEING FUELED BY 'JUUL' & OTHER NEW E-CIGS; NEW TYPE IS ODORLESS, LOOKS LIKE A SCHOOL SUPPLY & KIDS CAN CHARGE IT IN CLASSROOM, THEN PUFF AWAY; SENATOR DEMANDS FDA DO ITS JOB & REGULATE DEVICES LACED WITH 'MYSTERY CHEMICALS' NOW THAT 1 IN 5 NY KIDS ARE HOOKED
New Study Shows 20% Of New York Kids Are Using E-Cigs; Almost Double National Avg; In 2015, 19 Percent of SI High School Students Had Used E-Cigs, Highest in NYC

Latest Nicotine-Charged E-Cig—'Juul'—Promises The Nicotine Of An Entire Pack Of Actual Cigs & Even Masks As A Classroom Gadget; Students Say It Fools Teachers; Health Experts Warn It's The Kids Being Fooled With 'Mystery Chemicals'

Schumer To FDA: It's High Time To Smoke Out Dangerous E-Cigs Before More SI Kids Get Hooked

Standing at Susan Wagner High School on Staten Island alongside local advocates, U.S. Senator Charles Schumer recently urged the Food and Drug Administration (FDA) to reverse a recently made decision to delay the regulation of e-cigarettes popular among teens, like new-age products dubbed 'Juul.' Specifically, Schumer is referencing how in May 2017, the FDA delayed crucial regulatory compliance deadlines for tobacco and e-cigarette products, which were on track because of a 2016 rule. According to the most recent data available (2015), Staten Island had the highest rate of e-cigarette use among public high school students in New York City. The FDA's delay, coupled with new information showing that 1 in 5 New York high schoolers are using e-cigarettes has prompted Schumer to act.

Schumer was joined by Assemblyman Michael Cusick; Deputy Commissioner Sonia Angell, MD, MPH of NYC Department of Health and Mental Hygiene; Michael Seilback, Vice President of Public Policy & Communications at the American Lung Association; and Ashley Zanatta, Community Engagement Manager for Tobacco-Free Staten Island.

"To know that New York kids, like those on Staten Island, are much more likely to be using these newly-crafted e-cig devices, like Juul, is not only concerning, but it could be dangerous," said U.S. Senator Charles Schumer. "Up until now, the FDA was on track to reign in e-cigs and regulate them like any other tobacco product, but this recent delay, coupled with the new numbers showing a rise in the use of gadgets like Juul, which can fool teachers and be brought to school, demands the FDA smoke out dangerous e-cigs and their mystery chemicals before more Staten Island kids get hooked."

"During the 2017 Legislative Session, New York State passed legislation that would restrict the usage of e-cigarettes on school grounds. We can continue to introduce and pass legislation in order to address e-cigarette usage on school grounds, however, the Food and Drug Administration (FDA) must step in and regulate these products in order to avoid more students getting hooked on the chemical mixtures found in e-cigs," said Assemblyman Cusick.

"Just when we were making headway amongst NYC youth – rates of tobacco use hit a new low of 5.8% in 2015 – we now see e-cigarettes threatening to reverse progress," said Dr. Sonia Angell, Deputy Commissioner of Prevention and Primary Care at the NYC Health Department. They are setting us up for a new generation of nicotine addicted New Yorkers. There is emerging evidence that youth who use e-cigarettes are more likely to later try cigarettes. We strongly urge the FDA to begin regulation of e-cigarettes now."

"The FDA must take urgent action to stop manufacturers from their relentless marketing of e-cigarettes in kid-friendly flavors,"said Matthew L. Myers, president of the Campaign for Tobacco-Free Kids. "The agency's decision to delay key regulations means that kids will continue to be exposed to products like cotton candy flavored e-cigarettes for many years to come. Kids in New York and throughout the country deserve to be protected from the tobacco companies' latest youth-targeting tactics."

"Children must be protected from dangerous and addictive tobacco products." said Michael Seilback, Vice President, Public Policy & Communications | Northeast Region, of the American Lung Association. "FDA's decision to postpone key reviews of e-cigarettes, cigars and other tobacco products delays important public health protections needed to protect children from being targeted by the tobacco industry. The American Lung Association is deeply grateful to Senator Schumer for his continued leadership to help safeguard our nation's health and the health of New York's youth from all tobacco products."

"Senator Schumer is literally trying to save the lives of this generation and beyond by calling for the regulation of these innovative-yet potentially deadly-devices. The FDA failed to regulate conventional cigarettes until 2009, yet the U.S. Surgeon General told us as early as 1964 that smoking was dangerous. The tobacco companies that were convicted of racketeering and lying to the American public for decades about the dangers of smoking and marketing to children are the very same companies selling e-cigarettes under a host of subsidiary names. These products have hit the market at alarming rates and use among young adults has doubled. Are we going to go down this same road again and watch three or four generations of e-cigarette smokers experience death and disease while the companies deny the health effects of the chemicals in their products? The FDA has the potential to save lives starting with today's youth," said Ashley Zanatta, Tobacco-Free Staten Island.

Today, Schumer warned about a new type of e-cigarette, known as "Juul," which comes in a variety of flavors and can be easily concealed by kids in the classroom because it looks identical to a USB flash drive; it can even be charged in school or at home on a laptop. Schumer said that "Juul" may be even more dangerous than conventional smoking because one "pod" promises the amount of nicotine equal to an entire pack of conventional cigarettes. According to Campaign for Tobacco-Free Kids, Juul sales have increased dramatically and it is now the leading e-cigarette brand, in terms of dollar share. Despite the known danger and popularity among teens, e-cigarettes continue to be sold on the market unregulated. In July, the FDA decided to hold off on implementing an already finalized rule that would regulate e-cigarettes once-and-for-all. Schumer today urged the FDA to rethink its decision and quickly begin its oversight of e-cigarettes.

According to the New York State Tobacco Use Prevention and Control Advisory Board, more than one in five New York high school students used e-cigarettes in the last year. New York State's rate is higher than the national average. According to the CDC, in 2016 e-cigarettes were used by 11.3 percent of high school students.

According to 2015 data provided by the NYC Department of Health and Mental Hygiene, the most recent year available, Staten Island had the highest rate of e-cigarette use among public high school students. On Staten Island, 19 percent of youth had used e-cigarettes in the last 30 days. Overall, 15.9 percent of youth in New York City had used e-cigarettes in the last 30 days: Bronx – 13.7%, Queens – 15%, Brooklyn – 16.2%, Manhattan – 17.4%.

E-cigarettes are battery-operated devices that are designed to resemble traditional cigarettes. E-cigarettes contain a mechanism inside the device that heats up liquid nicotine and turns it into a vapor that smokers then inhale and exhale. Unlike conventional cigarettes, however, e-cigarettes do not contain tobacco. This key difference has led some to deem e-cigarettes safer to smoke. However, while not all risks are known, some studies have highlighted the dangers of e-cigarettes. A study published in the New England Journal of Medicine found that some e-cigarettes with higher voltage levels can contain cancer-causing formaldehyde at levels up to fifteen times more than regular cigarettes. In addition, e-cigarettes contain nicotine; the Surgeon General has found that nicotine has negative health impacts on adolescent brain development. According to the Surgeon General, the effects of nicotine exposure during youth and young adulthood can be long-lasting and can include lower impulse control and mood disorders. The nicotine in e-cigarettes and other tobacco products can prime young brains for addiction to other drugs, such as cocaine and methamphetamine. Moreover, according to the Surgeon General, youth who use a tobacco product, like e-cigarettes, are more likely to go on to use another tobacco product, like conventional cigarettes.

A 2016 study published in the Environmental Science and Technology found that e-cigarettes also contain two new types of carcinogens: propylene oxide and glycidol. The study also suggests that the age of the e-cigarette device and temperature play a role in the amount of chemicals produced. For instance, the study tested three types of e-liquids in two different vaporizers. The devices with one heating coil instead of two released higher chemical levels; and the higher the temperature inside the coil, the higher the amount of chemicals produced.

According to a 2016 report conducted by the Surgeon General, e-cigarettes are marketed by promoting flavors that appeal to youth—including candy and fruit flavorings—and that such marketing has resulted in increased use of tobacco products among children and teens. Schumer said that when the FDA extended its regulatory authority to e-cigarettes, it specifically acknowledged the harms posed to youth by flavored tobacco products. According to the CDC, more than 9 of every 10 young adult e-cigarette users said they use e-cigarettes flavored to taste like menthol, alcohol, candy, fruit, chocolate, or other sweets. More than 8 of every 10 youth ages 12-17 who use e-cigarettes said they use flavored e-cigarettes.

Juul sells pods in the following flavors: mango, cool mint, Virginia tobacco, fruit medley and crème brulee. Its website says that each pack of 4 pods is "approximately equivalent to one pack of cigarettes or 200 puffs." Juul users can purchase a rechargeable device along with a USB charger that can be used with any laptop device. The company has also described its product as "portable" and that it "leaves less lingering odor."

Cigarettes are currently subject to FDA's tobacco control authority, however, e-cigarettes are not yet regulated by the FDA. In July, the FDA announced it would delay enforcement of a finalized rule that would allow the agency to exercise its authority to regulate e-cigarettes under the Family Smoking Prevention and Tobacco Control Act of 2009. Once implemented, the rule would have included an age restriction of 18, and prohibits vending machines sales and free samples. In addition, the rule requires manufacturers to list product ingredients, tobacco products containing nicotine to carry an addicting warning label and new or changed tobacco products be approved by the FDA before going to market. Schumer said that the FDA's delay means that flavored e-cigarettes can remain on the market until at least 2022.

Schumer's letter to FDA commissioner Gottlieb appears below:

Dear Commissioner Gottlieb,

I write today with grave concern about the exposure of the nation's youth to harmful tobacco and e-cigarette products. As the entity responsible for ensuring the health and safety of American citizens with regard to inhalable products, the Food and Drug Administration (FDA) must take immediate action to prevent the spread of chronic disease and addiction.

In May 2017, the FDA delayed crucial regulatory compliance deadlines for tobacco and e-cigarette products as outlined in the 2016 deeming rule. When fully implemented it will provide consumers with additional health and safety warnings and require manufacturers to demonstrate that given products comply with health standards set by law. More recently, in July 2017 the FDA announced that it will seek information on lower nicotine levels in cigarettes and other tobacco products. While this announcement is a step in the right direction, the FDA's decision to delay the requirements as outlined in the deeming rule is devastating to the public health of our national community.

As you know, this rule gave FDA oversight on e-cigarettes and other tobacco products to both protect consumers and prevent tobacco products from appealing to children and teens. According to the FDA, the use of e-cigarettes among high schoolers increased from 1.5 percent to 16 percent from 2011 to 2015, respectively. E-cigarette products like Juul, which advertise flavors that are attractive to young people, will continue to get into the hands of teens until the FDA re-evaluates its decision to delay the deeming rule.

I strongly suggest the FDA reconsider the delay regulations that aim to protect our children from harmful products which appeal to their demographic.