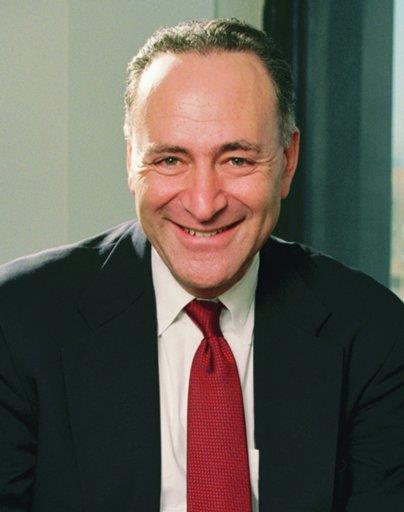 AFTER SCHUMER PUSH, TSA TO BRING HUNDREDS OF ADDITIONAL OFFICERS TO NYC TO FORESTALL WAIT TIME 'FLYPOCALYPSE' THIS SUMMER; TSA OFFICER SURGE INCLUDES 200-PLUS NEW AGENTS AT NY-METRO AIRPORTS
After Reports of Outrageously Long Security Lines At NYC Airports, Schumer Called on TSA to Hire More Agents & Re-Train Existing Canine Teams; Improving NYC Airport Wait Time Would Benefit The Flying Public Across the Country
Schumer Announces More than 750 New TSA Officers Nationwide, Including 216 Officers for NY's LaGuardia, JFK & Newark Airports
Schumer: Over 200 TSA Agents in NY Will Speed Brutally Long Security Wait Times
U.S. Senator Charles E. Schumer recently announced that the Transportation Security Administration (TSA) will hire more than 750 additional officers to help alleviate wait times this summer traveling season. As a result of Schumer's push, LaGuardia, JFK and Newark Airports have each been allocated an additional 72 officers, for a total of 216 officers in the New York- metro area. Ahead of what is predicted to be a summer of long lines and continued waiting, Schumer called for an increase in TSA agents to help speed up outrageously long security lines at New York City-area airports. Schumer also pushed for an increase in passenger-screening canine teams to work with new TSA agents at New York City airports.
"These new agents are desperately needed to speed-up brutally long security lines now plaguing our airports. We need them on duty ASAP – especially at JFK and LaGuardia – to ward off the 'flypocalypse' that will ensue when the busy summer travel season begins," saidSenator Schumer. "That's why I am pleased that the TSA has agreed to deploy over 200 new agents to New York City-area airports to unclog the lines and improve security—something that benefits travelers all across the United States."
New York City is home to some of the busiest airports in the country. According to the Port Authority, 126 million air travelers utilize its airports each year. Moreover, this summer traveling season is expected to be one of the busiest. According to reports, more than 220 million passengers are expected to fly this summer season, which Schumer says could greatly impact wait times at local New York City-area airports like JFK and LaGuardia—even the nation.
The Port Authority of NY/NJ, which operates JFK Airport, LaGuardia Airport and Newark Airport, recently pointed to an increase in security line wait times for air travelers. In a May 4th letter to the TSA Administrator, the Port Authority's Aviation Director and Chief Security Office wrote that during the period March 15- April 15, there were 253 occurrences of more than 20 minute waits in 2016 when compared to 10 instances over the same period the year prior. The Port Authority of NY/NJ says the average maximum wait time at JFK Airport between March 15th and April 15th increased 82 percent from the same period last year. The letter says that JFK Airport's daily average of maximum wait times during this period increased 82 percent from 11.5 minutes in 2015 to 20.9 minutes this year. The letter also states that the absolute maximum in 2016 was 55 minutes vs. 30 minutes in 2015. The Port Authority says that the issue is similar at LaGuardia Airport and Newark.
Last month, Schumer pushed the TSA to address the issue of long wait times, specifically by adding additional TSA agents to NYC airports as soon as possible and by increasing the number of highly trained Passenger Screening Canine Teams at New York City airports. Schumer explained that Passenger Screening Canine Teams offer a unique yet efficient way to screen air travelers. Schumer said that these canine teams will not only help address wait times but also provide even greater detection accuracy.