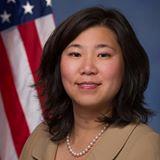 Meng, Crowley and Israel Express Concern About Increased Airplane Noise That May Result from Elimination of Perimeter Rule at LaGuardia Airport
U.S. Reps. Grace Meng (D-Queens), Joseph Crowley (D-Queens) and Steve Israel (D-Queens/L.I.) recently called on the head of the Port Authority New York and New Jersey to consider and address any noise effects that may be caused by the elimination of the perimeter rule, a current restriction limiting flights at LaGuardia Airport to a distance of 1,500 miles.

In a letter to Port Authority Executive Director Patrick Foye, the lawmakers urged that aircraft noise not be increased over the Queens-New York Metropolitan area if the rule is lifted. The Port Authority is presently looking at ending the 30-year-old regulation which if repealed, would allow airlines at LaGuardia to expand longer distance flights and areas served by LaGuardia Airport.

"Queens, Long Island and other communities throughout the New York area are already overburdened with excessive and blistering airplane noise," said Meng, Crowley and Israel. "The last thing we need is more noise over our communities. It is critical that the Port Authority consider and address any noise effects that may result from lifting the perimeter rule at LaGuardia."

A copy of the letter that the Congressmembers sent to Executive Director Foye is attached.

Meng, Crowley and Israel are members of the Congressional Quiet Skies Caucus. Established last year, the Caucus works to mitigate excessive airplane noise that adversely affects communities.