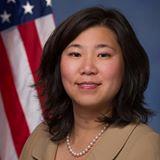 Meng Introduces Legislation Requiring EPA to Take Over Efforts to Combat Airplane Noise Over Queens
With the Federal Aviation Administration (FAA) doing virtually nothing to mitigate the barrage of increased airplane noise over Queens, U.S. Rep. Grace Meng (D-Queens) introduced legislation that would require the Environmental Protection Agency (EPA) to take the lead in combatting aircraft noise over the borough, as well as in affected communities across the country.
"The FAA has failed the residents of Queens," said Meng. "It continues to ignore the borough by making no real attempt to decrease the excessive aircraft noise over the area. I believe that the Environmental Protection Agency is better suited to handle the problem, and this bill is the best way for the agency to take control of it. Noise is an environmental issue and the EPA has handled mitigation efforts in the past. It's time to take noise control away from the FAA, and give the EPA a try."
Meng's legislation, the Quiet Communities Act of 2015, would restore the EPA's Office of Noise Abatement and Control, which previously oversaw the nation's noise control activities until it was defunded by the Reagan Administration in 1981 due to budget cuts. The measure would also require the EPA Administrator to conduct a study of airport noise and examine the FAA's selection of noise measurement methodologies, health impact thresholds, and abatement program effectiveness.
Although airplane noise has long existed over Queens due to the proximity of New York's airports, the blistering sounds of jets significantly increased in 2012 when the FAA implemented new flight patterns over the borough. These new routes, which are for airplanes departing LaGuardia, have increased the frequency of flights over residential neighborhoods in Queens, and the substantial rise in aircraft noise has negatively impacted the quality of life for borough residents.
Meng, who has secured additional noise monitors for Queens and played a role in creating the new airplane noise community roundtable, is a founder and Co-Chair of the Congressional Quiet Skies Caucus. Established last year, the Caucus works to mitigate excessive airplane noise that adversely affects communities.
The Congresswoman's bill is cosponsored by Reps. Joe Crowley (D-Queens/Bronx), Steve Israel (D-Queens/L.I.), Kathleen Rice (D-L.I.), Nita Lowey (D-Westchester), Katherine Clark (D-MA), Ruben Gallego (D-AZ), Raul Grijalva (D-AZ), Ann Kirkpatrick (D-AZ), Eleanor Holmes Norton (D-DC) and Mike Quigley (D-IL).