It's Complicated
Untangling New York's super-confusing rent regulation laws
BY MARISA BOWE
If you're confused by rent regulation laws, you're in good company.
"Not for the novice or faint of heart," says real estate attorney Lucas Ferrara of Newman Ferrara, and the author of a 2,000-page book on landlord-tenant law.
"New York's rent regulation laws have been called 'an impenetrable thicket, confusing not only to laymen but to lawyers' by no less an authority than New York's highest court," says litigation partner Dani Schwartz of real estate law firm Rosenberg & Estis.
So let's try to cut through the thicket.
First things first: Many people assume "rent control" and "rent stabilization" are the same.
They're not.
Rent control, the older of the two, has origins in the world wars, when resources for housing construction were scarce and rental prices shot up. To avoid mass displacement, the state passed regulations covering apartments in buildings constructed before 1947. Due to attrition-they're decontrolled upon vacancy-only about 1 percent of New York City apartments are now rent-controlled.
Rent stabilization, too, was passed in response to a housing emergency. In 1969, the city was in decline, and deterioration of housing stock had outstripped construction. Plummeting vacancy rates emboldened landlords to raise rents by as much as 40 percent. so regulations were deemed necessary. But since rent control was perceived as discouraging new construction, the new rent regulations gave more control to landlords.
Generally, rental buildings built before 1974 with at least six units are rent stabilized; there are still about 1 million rent-stabilized apartments in New York City.
They tend to be far less expensive than market-rate apartments, so they're highly sought after. Once in, people tend to stay put. Still, for the tenacious and/or lucky, it's possible to land one.
Rent-stabilized leases provide certain rights for tenants. Lease renewals are guaranteed, and rent can be increased only by a percentage determined every June by the New York City Rent Guidelines Board. (Rent increases for one-year leases have ranged from 11 percent in 1980 to zero percent this year. )
The amount of the increase and other provisions are fiercely fought over, of course, but power struggles aren't limited to that annual duel. If landlords catch tenants flouting the law, or their lease, they may be able to evict them. "You will have people on both sides of the aisle trying to game the system," says Ferrara.
"Subletting is a massive issue at the moment," says Dov Treiman, chair of Adam Leitman Bailey's landlord-tenant civil litigation practice. Doing so with the landlord's approval is legal, though tenants are not allowed to charge more than their rent unless they sublet the apartment fully furnished. But, says Treiman, "it is so terrifically profitable to sublet that tenants are highly incentivized to profiteer."
This is particularly true in recent years thanks to Airbnb and other online lodging-rental websites.
In direct response to Airbnb's massive growth in New York City, New York state passed the Illegal Hotel Law in 2010 to outlaw short-term rentals of less than 30 days. The law, which took effect on May 1, 2011, allows short-term paying guests if the ten an s are present-but their leases may not. In Ferrara's words, "Airbnb is a legal minefield for tenants."
So how can tenants know if their Airbnb hosting is legal or not? It's complicated. "The case law is still developing," says Schwartz. "Some courts have considered this kind of opportunism as a violation of New York's Multiple Dwelling law, applicable rent stabilization regulations and fire safety laws as well."
It's less complicated for the New York state attorney general's office, which issued a report in October 2014 flatlystating, "Most private short-term rentals booked in New York City violated the law."
# # #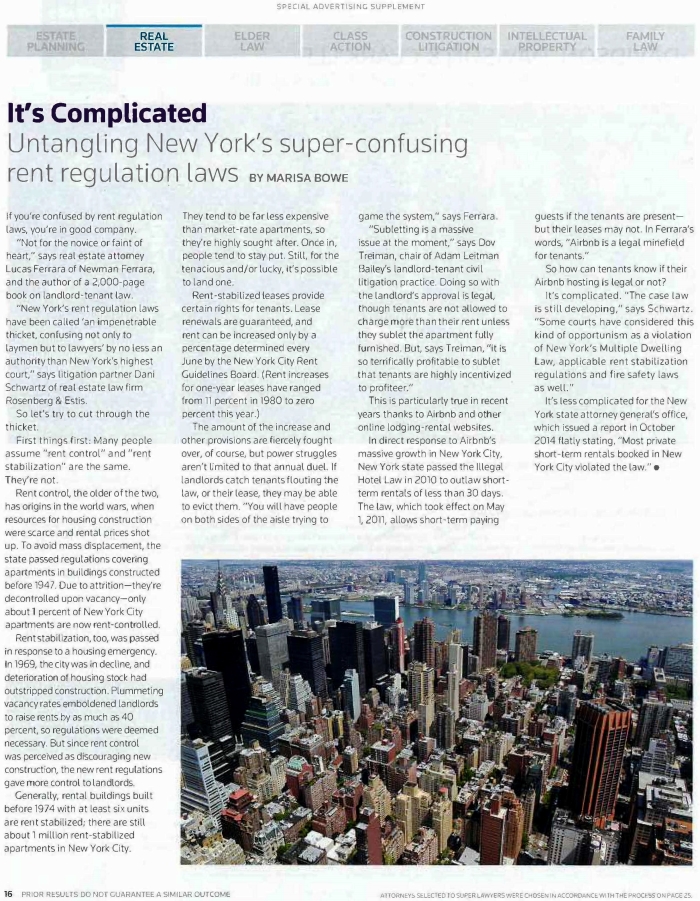 # # #
To read about the "Newman Ferrara Nine," click here.
To read about Lucas's "Top 100" New York Metro Super Lawyer status, click here.