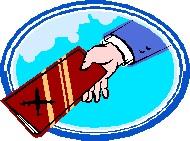 Paderno Konstantin sued Aerosvit Airlines after a flight delay -- from Kiev, Ukraine -- made him miss a connection to Tel Aviv, which, in turn, caused him to arrive in New York some thirteen hours later than originally scheduled. (He wanted to recover $734 in expenses that allegedly resulted from that delay.)
While the Kings County Civil Court awarded Konstantin $434, the Appellate Term, Second Department, reversed and dismissed the case because the guy was unable to present appropriate proof of his damages.
He certainly made no connection there, either.
To view a copy of the Appellate Term's decision, please use this link: Konstantin v. Aerosvit Airlines