BUILDINGS COMMISSIONER ROBERT LIMANDRI ANNOUNCES APPOINTMENT OF TIMOTHY E. HOGAN AS DEPUTY COMMISSIONER OF ENFORCEMENT
Deputy Commissioner Hogan Has More than 30 Years of Law Enforcement Experience
Served as Chief Deputy United States Marshal for the Eastern District of New York
Buildings Commissioner Robert LiMandri recently announced the appointment of Timothy E. Hogan as the new Deputy Commissioner of Enforcement. With more than three decades of law enforcement experience, Deputy Commissioner Hogan will oversee the Department's Enforcement Division, including all emergency and safety operations, complaint inspections and construction accident investigations. Since 2005, Deputy Commissioner Hogan has served as the Chief Deputy United States Marshal for the Eastern District of New York where he was responsible for overseeing complex criminal investigations, the apprehension of fugitives around the world and the protection of federal court judges and court witnesses. His predecessor at the Department, Eugene J. Corcoran, served as the United States Marshal for the Eastern District and was the first former law enforcement official to join the agency's senior leadership.
"Inc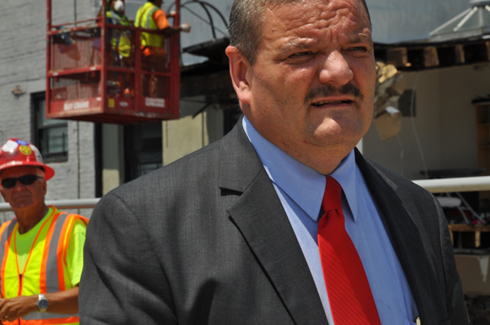 reasing the safety of our construction sites requires smart, strict enforcement, and Timothy Hogan has the expertise and experience to raise building standards citywide," said Commissioner LiMandri. "For more than three decades, Timothy has focused on protecting the public from some of the country's most notorious criminals, and his unique skills will help us target industry members who cut corners on the job site and put New Yorkers at greater risk. By managing investigative and security teams at the highest levels of law enforcement, Timothy understands the importance of public safety and the need to consistently evaluate and improve operations. I am very proud he has joined our team, and I am certain his decisions will make a difference on every construction site throughout the City."
"This Department is unlike any other buildings department in the country, and it is an honor to join such a dynamic team with such an important mission - ensuring safe development for millions of New Yorkers," said Deputy Commissioner Hogan. "This diverse team of inspectors, engineers, architects and attorneys work diligently to ensure developers and builders follow the law, and I am confident my knowledge and skills will help root out those who fail to do so. I would like to thank Commissioner LiMandri for this great opportunity, and I hope to build on the agency's successes to make construction sites safer than ever before."
As Deputy Commissioner of Enforcement, Mr. Hogan will oversee more than 120 attorneys, investigators and inspectors whose primary mission is to investigate the work of contractors, developers, licensed professionals and any others who violate the NYC Construction Codes and Zoning Resolution and prosecute these offenders at the Environmental Control Board and the Office of Administrative Trials and Hearings. He will oversee DOB's Office of Internal Audits and Discipline, which investigates employee misconduct and unlicensed construction operations, and work closely with the City's Department of Investigation (DOI) to root out corruption at all levels within the construction industry. He also will assist DOI in the operation of the Buildings Special Investigations Unit, a specialized unit that investigates unethical business practices and unsafe construction work that warrants criminal prosecution.
As Chief Deputy United States Marshal for the Eastern District, Mr. Hogan was second in command of the eighth largest district in the country and handled all aspects of security for 39 United States District Judges, five federal buildings and 150 Assistant United States Attorneys. In 1985, he was appointed as a Deputy United States Marshal in the Southern District of New York and rose through the ranks of the organization to hold positions as Warrant Inspector, Supervisory Deputy and Assistant Chief. During his career, Mr. Hogan has developed an expertise in building security, blast mitigation and emergency management, including security consultation for five courthouse construction projects. During his tenure in the Eastern District, he successfully coordinated security for various terrorism and organized crime trials, including the recent Najibullah Zazi case. He also has advised various federal, state and city agencies on building security procedures. Mr. Hogan began his law enforcement career in 1981 as a special police officer in Dennis, Massachusetts.
A native of Medford, Massachusetts, Timothy attended Saint Anselm College in Manchester, New Hampshire, where he earned a Bachelor's Degree in Criminal Justice and a certification in Secondary School Education.