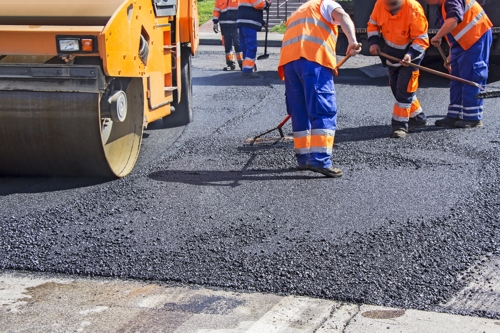 CONSPIRED WITH ASPHALT PAVING COMPANIES TO RIG BIDS
On August 29, 2023, a Michigan construction company and its president conceded that they engaged in two separate conspiracies to rig bids for asphalt paving service contracts. Apparently, they colluded with other companies to give the impression that the pricing being offered was competitive, when that actually wasn't the case. (The participants predetermined who would win the contracts.)
The individual and company in question pleaded guilty "to two counts of violating Section One of the Sherman Act," with the individual facing up to 10 years in prison and a $1 million criminal fine, while the corporation may be zonked for up to a $100 million; which fine may be adjusted upward if the victims' losses exceed that sum.
In a written statement, Deputy Assistant Attorney General Manish Kumar of the Justice Department's Antitrust Division, noted "These guilty pleas demonstrate our commitment to protecting Americans from schemes that undermine competition in the transportation infrastructure sector …. Along with our law enforcement partners, the division will continue to seek justice when corporations and their leaders deprive customers of fair and open competition."
Their roads weren't paved with good intentions here ….
# # #