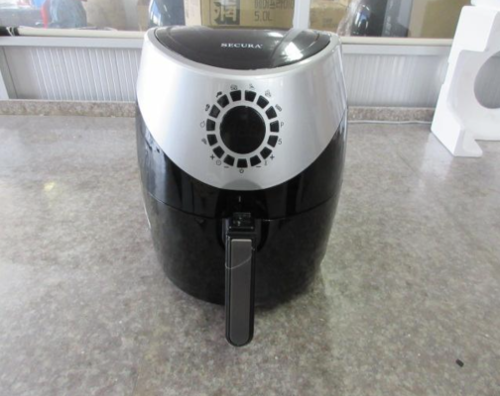 According to a recall announcement issued by the Consumer Product Safety Commission, these Chinese-made air fryers are miswired and have thus caused smoking, burning and fires.
# # #
Secura Recalls Air Fryers Due to Fire and Burn Hazards (Recall Alert)

Name of Product:
Secura Air Fryers

Hazard:
A wire connection in the air fryer can overheat, posing fire and burn hazards.
Remedy:
Refund/Replace
Recall Date:
September 28, 2023
Units:
About 6,400 (In addition, about 680 were sold in Canada)
Consumer Contact
Secura toll-free at 888-792-2360 from 9 a.m. to 5 p.m. PT Monday through Friday, email at customercare@thesecura.com, or online at https://www.thesecura.com/recall/ or at www.thesecura.com and click on "Recalls" at the bottom of the page for more information.
# # #
Recall Details
Description:
This recall involves Secura air fryers with model number SAF-53D (TXG-DT16E) with date code 1901, and model number SAF-53 (TXG-DS16) with date codes 1903 and 1904. They are a black color with silver accent. The brand name Secura is on the top of each unit. The model number and four-digit date code are printed on the silver labels located at the bottom of each unit. The air fryers measure about 12 inches high, 11 inches deep and 12 inches wide.
Remedy:
Consumers should immediately stop using the recalled air fryers and contact Secura for an Amazon gift card in the amount of $45 or a free replacement at consumer's choice with Secura products as listed on Secura's webpage at https://www.thesecura.com/recall/. To receive the gift card or replacement product consumers must provide their contact information and submit photos of the recalled unit with the power cord cut off and include information of the product's date code located at the bottom of the product. No receipt is needed to receive a replacement. Secura is contacting all known purchasers.
Incidents/Injuries:
The firm has received nine reports of the air fryers catching fire, burning and smoking. No injuries or property damage have been reported.
Sold At:
Online at thesecura.com and Amazon.com from May 2019 through October 2020 for between $48 and $90.
Importer(s):
Secura Inc., of Lake Forest, California
Manufactured In:
China
Recall number:
23-794
# # #
Think they're going to get fried here?
# # #