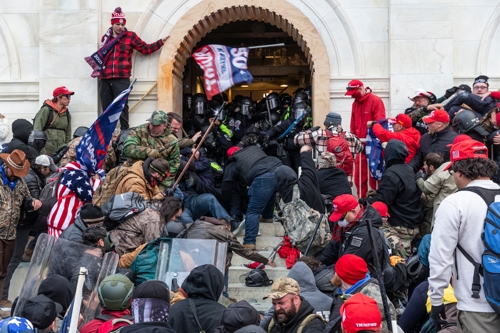 ATTEMPTED TO IMPEDE THE CERTIFICATION OF THE 2020 PRESIDENTIAL ELECTION
On Friday, September 1, 2023, two leaders of the "Proud Boys" organization were sentenced on multiple felony charges for their involvement in breaching the U.S. Capitol on January 6, 2021. Their actions, according to a press release issued by the United States Department of Justice, were to impede "the process of ascertaining and counting the electoral votes necessary to certify the 2020 presidential election."
EN (32) of Auburn Washington was hit with 18 years in prison, while DP (45) of Rochester, New York, got a decade; both men must also undergo 36 months of supervised release.
A jury convicted the duo (and three other co-defendants) on May 4, 2023, of several felonies, including "obstruction of an official proceeding and conspiracy to prevent members of Congress or federal officers from discharging their duties before and during the breach of the U.S. Capitol on Jan. 6, 2021." DN was also convicted of "seditious conspiracy."
In the aftermath of January 6, the DOJ reports that some 1,106 individuals have been arrested for their involvement in the event, with over 350 individuals charged with assaulting or impeding law enforcement.
Think they're still proud boys?
# # #