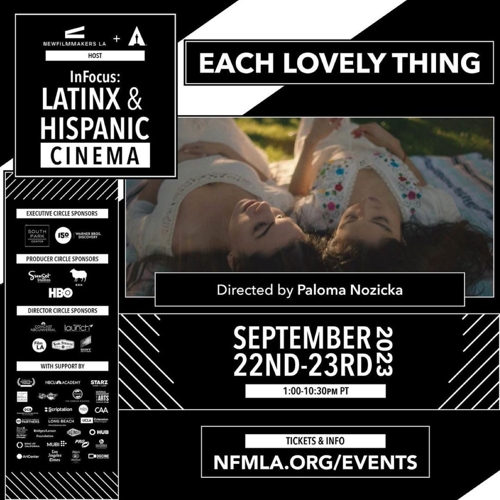 NewFilmmakers Los Angeles (NFMLA) is a non-profit which showcases "innovative works by emerging filmmakers from around the world." Its goal is to offer filmgoers and entertainment professionals monthly screening events, and to provide "a forum where filmmakers can be recognized for their contributions, have open audience discussions about their projects and connect with industry professionals for insight on distribution, production, acquisition and representation."
▫️
On September 22-23, 2023, the "InFocus: Latinx & Hispanic Cinema" program will be hosted by NFMLA and the Academy of Motion Picture Arts and Sciences, (@theacademy), and EACH LOVELY THING, written and directed by Paloma Nozicka, will be among the films screening at this year's event.
▫️
In this unique work, while a celebration is underway, a woman repeatedly attempts to stop her sister from making an irreversible decision. Will she succeed? To learn more, visit:https://www.newfilmmakersla.com/
▫️
Our sincerest thanks to all at NFMLA, and congratulations to our cast and crew for achieving this great honor.
▫️
@each_lovely_thing
Starring:
@thnx4chering
@palomiiiiiiita
▫️
Featuring:
@elainerivkin @13inspanish @xmarksthespt @bywoahboy @kiaylaryann @deliabaseman @ramonehulet @juanempanadavilla @lori1ton
▫️
produced in association with @lucasaferrara
writer + director: @palomiiiiiiita
creative producer: @vanceasmith
EPs: @juanempanadavilla @lori1ton
AP: @jmichaelsobel
DOP: @haley_minyoung_kreofsky
Editor: @zoe_lawrence_
1 AD: @_jjuanpablo
1 AC: @justinlinstagram
gaffer: @vic_lee12
sound mix: @spagettit
prod design: @beccamu
sound design: @_jjuanpablo
key: @a_classic_jo
swings: @sassyseamonster @elicooperfilm
colorist: @ariannashiningstar
post audio: @_jjuanpablo
music: @sadbradsmith
wardrobe: @alexiscmartino
hair + mu: @laurennverret.mua @andreavaldezmua
PA @ibelieveicanry
BTS stills: @katherinebournetaylor
poster: @beccamu
trailer: @zoe_lawrence_
▫️
Now what a lovely thing is that!
.
.
#
To view a list of some of Lucas's other projects, click here: https://www.imdb.com/name/nm11739610/
#
#lucasaferrara #righttodie #death #dying #disease #cancer #terminalillness #terminallyill #tumor #film #films #movie #movies #directing #director #writer #actor #actors #shortfilm #actress #femalewriter #screenplay #directors #moviemaking #movemaker #filmmaker #filmmaking #moviemakers