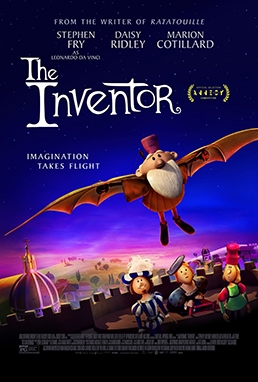 PREMIERING IN THE USA ON SEPTEMBER 15, 2023
Academy Award® nominee, Jim Capobianco — whose credits include The Lion King, Wall-E, Inside Out, Coco, and Mary Poppins Returns — proudly presents a new stop motion puppet and 2-D hand drawn animated feature, called THE INVENTOR.
▫️
In this movie, we track the "insatiably curious and headstrong inventor and artist Leonardo da Vinci (Stephen Fry) as he leaves Italy to join the French court where he can freely experiment, invent flying contraptions and incredible machines, and study the human body. Joined in his adventure by the audacious Princess Marguerite (Daisy Ridley), Leonardo attempts to uncover the answer to the ultimate question: 'What is the meaning of life?'"
▫️
Written, produced and directed by Jim Capobianco, and co-directed by Pierre-Luc Granjon, the voice cast also includes Marion Cotillard, and Matt Berry.
▫️
On June 12, 2023, the film had its world premiere at the Annecy International Animation Film Festival, and is scheduled for theatrical release here in the U.S. on September 15, 2023.
▫️
While I'm proud of my role as a co-Executive Producer, some have asked whether I have a cameo in the production. (Maybe ….) You'll just have to watch this enchanting, family-friendly movie to find out.
▫️
For additional information, visit:https://www.theinventorfilm.com/
▫️
(How's that for inventive?)
.
.
.
.
# # #
To view a list of some of Lucas's other projects, click here: https://www.imdb.com/name/nm11739610/.
# # #
.
.

#theinventorfilm #film #films #movie #movies #leonardodavinci #animation #animationfeature #puppet #puppets #stopmotionpuppet