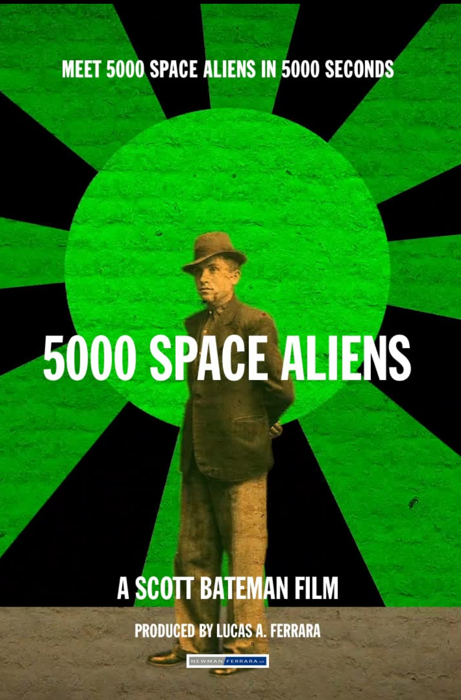 As exclusively announced by Rachel Foertsch, Screen Rant's lead content producer, 5000 SPACE ALIENS, a feature-length animation created by Scott Bateman, will be available to download — via all the major streaming platforms, like Amazon, Apple and Facebook — on November 21, 2023.
▫️
This unique project has not only scored an array of accolades, including a "Best Feature" win at the Medusa Underground Film Festival, but Film Threat's Chuck Foster released this amazing review:
▫️
"Imagine if Andy Warhol's silkscreens came to life and danced before your eyes. Essentially, this is 86 minutes of exactly that. 5000 one-second clips, all centered on a human form, join together in a string of motion and color propelled by a driving electronic music score. Faces flash before your eyes, barely registering in your brain before the next image demands attention in an almost subliminal fashion. This isn't Pixar and cute singing animals. This is an emotional rainbow brought to life as something new and exciting – the way of the future ….."
▫️
In her Screen Rant piece, Rachel graciously noted, in part, "5000 Space Aliens promises a ride with hypnotic rhythms, and it's clear that it will be a one-of-a-kind roller coaster experience."
▫️
If you're looking for an extraterrestrial adventure, you can find out more here: https://screenrant.com/5000-space-aliens-trailer-poster-release-date/
▫️
(WARNING: If you're not pro-alien, this movie may not be for you.)
.
.
#
To view a list of some of Lucas's other projects, click here: https://www.imdb.com/name/nm11739610/
#
.
#lucasaferrara @5000spacealiens @scottbateman @realrayrays @screenrant @filmthreat @strikemediaglobal @chuckfosterpideayuda @octobercoastpr @medusaunderground
.
.
.
#animator #animators #animation #animatedfilm #film #films #movie #movies #artist #artists #art #feature #featurefilm #popart #synthpop #music #alien #aliens #industrialmusic #symphony #synthpop #synthpunk #warhol #warholian #moviemagic #moviemaking #moviemaker