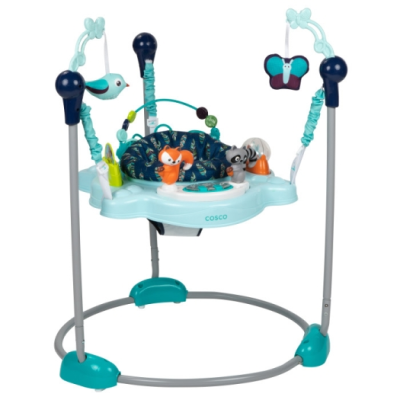 According to a press release issued by the Federal Trade Commission, these Cosco "Activity Centers" could harm your young ones.
# # #
Dorel Juvenile Group Recalls Cosco Jump, Spin & Play Activity Centers Due to Fall and Injury Hazards; Sold Exclusively at Walmart
Name of Product:
Cosco Jump, Spin & Play Activity Centers
Hazard:
The activity centers' straps can detach or break while a child is in the activity center, posing fall and injury hazards to the child.
Remedy:
Replace
Recall Date:
October 26, 2023
Units:
About 115,700
Consumer Contact
Dorel toll-free at 877-657-9546 from 8 a.m. to 6 p.m. Monday through Thursday and 8 a.m. to 4:30 p.m. Friday ET, or email at CoscoActivityCenterRecall@djgusa.com, or online at https://www.coscokids.com/ or https://www.safety1st.com/us-en/ and click on "SAFETY NOTICES" at the top of the page for more information.
Recall Details
Description:
This recall involves Cosco Jump, Spin & Play Activity Centers with model numbers WA105FZW and WA105GML. The activity centers have a circular hoop base and three poles from which a child seat with a play tray is suspended by three straps. The activity centers are sold in blue and pink, and feature two removable toy animals on the play tray at the front of the seat as well as two toy animals hanging from the front two poles. The activity centers can be adjusted to three different heights.
Remedy:
Consumers should stop using the recalled activity centers immediately and contact Dorel for a replacement. Consumers will be instructed to cut through the straps of the activity centers and send a photo of the cut straps to Dorel to receive a free replacement activity center.
Incidents/Injuries:
The firm has received 141 reports of the straps detaching or breaking including 38 minor injuries involving bumps, bruises and scratches.
Sold At:
Exclusively at Walmart stores nationwide and online at Walmart.com from November 2020 through October 2023 for about $70.
Manufacturer(s):
Dorel Juvenile Group Inc., of Columbus, Indiana
Manufactured In:
China
Recall number:
24-014
# # #
Bet they're jumping and spinning to deactivate these Activity Centers ....
# # #