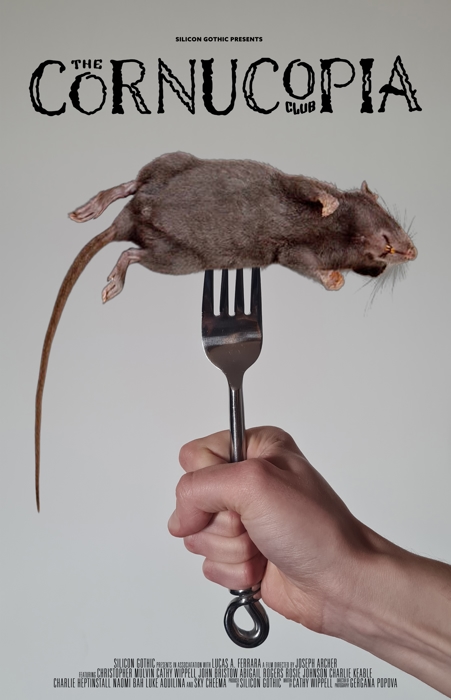 In CORNUCOPIA CLUB, a new short written by Cathy Wippell, and directed by Joseph Archer, a group of rich, young socialites are attending a lavish dinner party where they are gluttonously consuming every kind of food imaginable … including, the forbidden kind, of course.
▫️
But, alas, their decadent festivities are unexpectedly disrupted, and chaos ensues, when the partygoers are ambushed by a vigilante team of animal rights activists, with an agenda of their own.
▫️
Who will get devoured here, you ask?
▫️
Well, you'll have to wait and see, as the film is currently en route to festivals across the globe. As we await selections, my friends at Silicon Gothic were kind enough to allow me to share this trailer with you.
▫️
Our thanks to the cast and crew for their masterful efforts.
▫️
Made by Silicon Gothic in association with @lucasaferrara
▫️
CAST
Gracie @cathywippell
Rory @john_bristow
Darcy @abi_rog
Quintin @christopher_mulvin
Tobias @charlie_keable
Phillipa @posiesofrosie
Max charlie.heptinstall
Z @_naomibah
Leaf @laquilina
Earth @skycheema
Vigilante @majesticlydia
Waiter @iamdavidbruckner
Waiter jacojackso
▫️
CREW
Director @joseph_archer
Writer @cathywippell
Co-Producer @richtmedia
DOP: @ggppva
AD: @samshaw1104
1AC; @dimi_vakrilov
2AC: Lemuel Asied
Gaffer: Damien Fowler
Sound Record: @thecwsound
DIT and Ass't Ed: @maddydoddfilms
BTS Photo: @fearbailey
Set Dresser: @deiastein
MUA: Holly Cridlin, Emily Cotter
Script and Cont Super: @oscarrobinsons
Editor and Composer @joseph_archer
Colour Grade: @rob_loud
Sound Mix @alfieskinner.filmo
▫️
We're sure to be welcoming you to the Club, soon!
.
.
.
# # #
To view a list of Lucas's other projects, click here: https://www.imdb.com/name/nm11739610/
# # #
#lucasaferrara #film #films #shortfilm #shortfilms #comedy #drama #actor #actors #actresses #actress #filmmaker #filmmakers #filmmaking #director #directors #directing #movie #movies #creatives #moviemaking #moviemakers #producing #producer #producing #dramedy