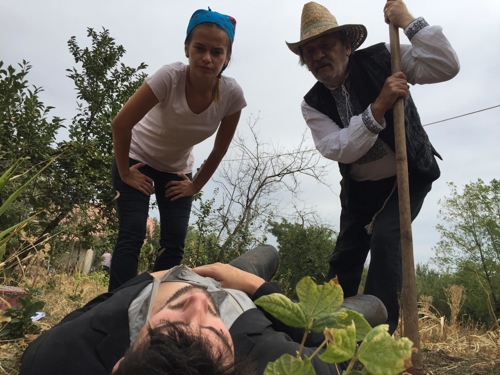 SEE IN VINO VERITAS, ON THE BIG SCREEN!
After a successful festival run, the creatives behind the film IN VINO VERITAS cordially invite you to attend the project's Parisian premiere, on Thursday, May 11, at 7:30 p.m., at Cinéma le Brady — 39 Bd de Strasbourg, 75010 Paris, France.
▫️
Directed by Sylvestre Bary, his first movie is described as "a Franco-Romanian dramatic comedy that observes with tenderness and humor the deep malaise of a generation. This comical, offbeat, and moving road-trip asks the fundamental question: What makes life worth living?"
▫️
If you're searching for the answer, then feel free to attend Thursday evening's event, if you can. We're told you'll be able to meet the film's crew, share a glass of wine, and will be updated about the group's future endeavors.
▫️
The festivities are sponsored, in part, by "Culture Art & Vision" – a French nonprofit organization.
▫️
Get your tickets here: https://www.eventbrite.fr/e/billets-projection-in-vino-veritas-cinema-le-brady-630288378507
▫️
A special shoutout to — @theotimeouaniche, madalina.dorobantu12 , Florin Vlad Sebastian Vasiliu, @h_janjaud, Violeta Teasca, @maya.sarac, @djibrily0, @axel_nogard, @lemon2raf, Jjr Reno, Dan Popa, @julien_dub_, @baronblackmusic, Carlos Duarte — for their respective contributions to this project.
▫️
On trinque?
.
.
.
#lucasaferrara @sylvestrebary @invinoveritaslefilm @cultureartvision
.
.
 
# # #
To view a list of Lucas's other projects, click here: https://www.imdb.com/name/nm11739610/
# # #
#film #films #movie #movies #frenchfilm #frenchfilms #actors #actors #actress #director #directors #acting #producer #producers #filmmaking #filmmaker #filmmakers #moviemaking #moviemaker #moviemaking #invinoveritas