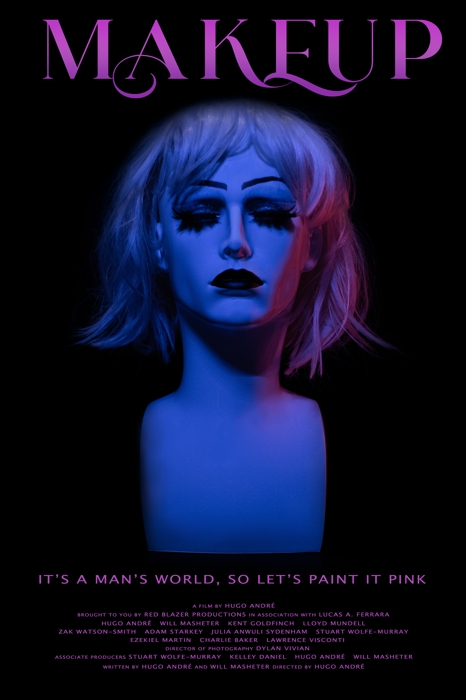 Since 1998,
COMINGSOON.NET
has been offering readers exclusive interviews, on-set reporting, and entertainment news.
▫️
On Friday, April 28, 2023, the outlet premiered the release of the trailer for a new feature film called MAKEUP, a 90-minute "drama-comedy" which will be available to own or rent via digital download in the UK starting June 26, and in the USA-Canada-worldwide beginning June 27.
▫️
Written by Hugo Andre and Will Masheter, this award-winning film tracks an introverted French ex-chef, who moves to the UK to begin his new life as a food critic. After renting a room in a house belonging to a well-respected London stockbroker, a friendship is formed … and secrets are revealed.
▫️
The film has received a number of accolades including: "Directorial Debut by a Young Film Maker" at London International Film Festival (2021), Winner of "Best Film" at Paris International Film Awards (2021), and "Best Young Director" at Lonely Wolf Film Festival (2021).
▫️
To learn more, please visit:
https://www.comingsoon.net/movies/trailers/1284731-exclusive-makeup-trailer
▫️
As we rapidly approach our release date, here's a quick shout-out to our cast and to some of our crew:
▫️
Director: Hugo Andre
Written by: Hugo Andre & Will Masheter
Associate Producers: Will Masheter, Stuart Wolfe-Murray, Kelley Daniel, Hugo Andre
DOP: Dylan Vivian
1AC: Flo Goodlad-Skinner
2AC: Teddy Skinner
Sound Design: Atom Inions Morton
Music: Archie Jennings
Hair & Makeup: Georgia English, Alesia Baiocco
Cast: Hugo Andre, Will Masheter, Kent Goldfinch, Zak Watson Smith, Adam Starkey, Lloyd Mundell, Julia Anwuli Sydenham, Stuart Wolfe-Murray, Maria Lidze, Pete lnskip, Adele Marie, Charlie Baker, Ezekiel Martin, Lawrence Visconti, Louis Circe, Edward Saunders, Jorge Field, Daisy Hirst, Shaelyn Newmarch, Guillaume Trouson, Dorian Semencic.
▫️
Rather than break up … Makeup!
.
.
.