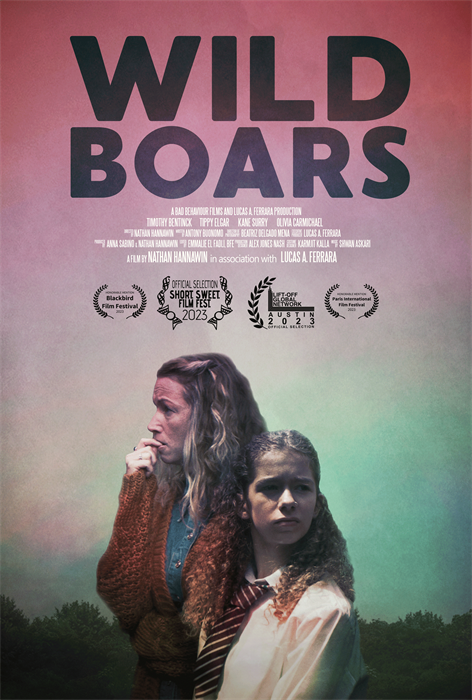 After the death of her mother, Nora is told she's been left something which could ensure her young daughter's future. But to claim it, Nora must return and face her foster father, the very person she initially escaped from, and who happens to harbor many dark secrets ….
▫️
That's the creepy premise of Nathan Hannawin's new film, "WILD BOARS," co-written with Emmy award-winner, Antony Buonomo. As Nathan notes, sexual abuse of children has been "brushed under the carpet for decades, accepted by some as the norm, and that is just not acceptable." This film exposes and confronts that evil.
▫️
We're pleased to announce that the project has been selected to screen at Austin Lift-Off Film Festival, which will be held ONLINE from April 3, 2023, through May 1, 2023. While links haven't yet been released, you'll should soon be able to find additional info at https://liftoff.network/austin-lift-off-film-festival/
▫️
Of course, we would be remiss, if you we didn't thank everyone at the Lift-Off Network, and if we failed to acknowledge our dedicated cast and crew.  (Their Instagram tags follow.)
▫️
Cast
▫️
Artemis @timothybentinck
Nora @tippyelgar
Arabella @mistykarma
Clarence @kanebrm
▫️
Crew
▫️
Director @nathanhannawin
Writer @vertigoprint
EP @lucasaferrara
Producer @nythinking
AP @fearbailey
DP @beatriz.delgado.dop
Prod Design @little.man.big.voice
Costume @karmjitkalla_costume_designer
Hair & mua @aldissetiadi
Editor @editor_emmalie
AD @andrea_rattii
Gaffer @richardgrscottfilm
1st AC @henrykeep_camera_crew
2nd AC @carolinasmcostaac
Stills @julia__laird
Grade @chris.shaw.colour
Lighting @haydencfjones @ryanflood_lights @brettlcohen
Script Super @joenurding
Covid Marshall @gwnnc
Catering @captainjoshhughes
@villagecooks
Prod assist @imogen_scawen @apedrasik @taviehutch_96
Kit @promotionhire @indiefilmhire
Location @ukfilmlocation
Festival Consultant @festivalformula
▫️
Now, don't be a BOAR. Give this film a look!
.
.
.
.
# # #
To view a list of Lucas's other projects, click here: https://www.imdb.com/name/nm11739610/
# # #
#film #filmcrew #filmmaking #filmfestival #actor #actors #filmmaker #filmmakers #filmmaking #short #shorts #director #writer #creative #creatives #moviemaker #moviemaking #moviemakers