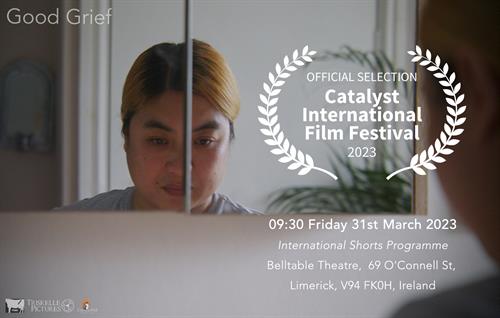 Twenty percent of all pregnancies end in miscarriage. And in addition to the physical impact, many report feeling isolated and alone.
▫️
In "GOOD GRIEF," a film written and directed by Rob Sharp, and starring Vicky McClure, we follow four women who have undergone a loss. And while the dialogue has been described as "brutally honest," the goal, according to Sharp, is "to offer audiences a glimmer of hope and comfort; to allow people to heal."
▫️
We're pleased to announce that the short will be screening at Catalyst International Film Festival which "celebrates diverse stories and storytellers currently under-represented on screen and behind the camera." This year's event is being held from March 30-April 1, 2023, in Limerick (Ireland). For additional information, please visit: CATALYST INTERNATIONAL FILM FESTIVAL
▫️
In the interim, our thanks to the festival's organizers, judges, and sponsors, and to our cast and crew, for this honor. (Their Instagram tags follow.)
▫️
CAST
▫️
vicky.mcclure, @abigailnaomimay, @bethanyasheractor, @mercedesassad_, @princess_solaya, @jazminanthony, @kat_taylorsmith, @_linwin, @kitandtell, @kavitav22, @daniel_poppitt
▫️
CREW
▫️
Produced by @sirloinfilms @triskellepictures @catonthewallproductions
Presented by @foreverstarscharity
Producer @sophieblackfilm
Producer @charliecactress
EP: @lucasaferrara
DOP @jononeilldop
1st AC @toddfranklinfilm
Sound @eskalia23
HMUA @kjf_makeup
BTS @beaulouisephotography
PA @jethro_randell
▫️
Féach leat i Luimneach ... do roinnt "Good Grief."
.
.
 
# # #
To view a list of Lucas's other projects, click here: https://www.imdb.com/name/nm11739610/
# # #
#lucasaferrara #miscarriage #miscarriages #baby #babies #grief #goodgrief #short #robsharp #vickymcclure #indiefilm #indiefilms #movie #movies #film #films #indiemovie #independentfilm #sirloinfilms #independentfilms #britishfilm #britishfilmmaker #loss #child #britishfilmmaking #children #grieving #filmfestival #filmfestivals