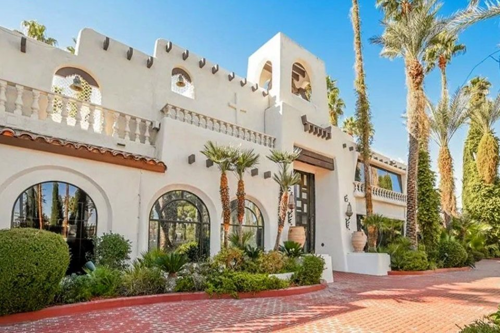 MAGICIANS' MAGICAL MANSION LANDS IN NEW HANDS
For fans of the unexplained -- or iconic large white tigers -- a truly extraordinary Nevada property, which comes with some celebrity history, has just changed hands.
Formerly owned by renowned magicians "Siegfried and Roy," this stunning estate in northwest Las Vegas showcases the duo's love for animals, as well as their exceptional showmanship.
The main house is a marvel of architecture, spanning an impressive 8,750 square feet. Step inside and be captivated by the bold style choices, including a black-tiled bathroom with a striking red tub, a grand entryway boasting a gilded staircase, stained glass windows, and exquisite terra cotta tile floors.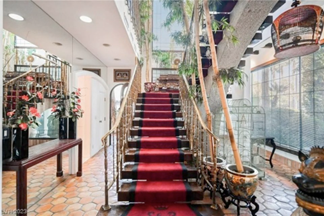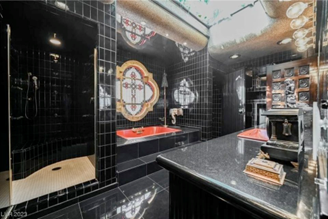 Each room is adorned with unique design elements, from an elephant mural in one bedroom to a stunning multi-colored ceiling in another. The safari theme throughout pays homage to Siegfried and Roy's legacy, and served as the backdrop of a collection of celebrity relics that complemented the decor, including Liberace's cufflinks and Genghis Khan's sword.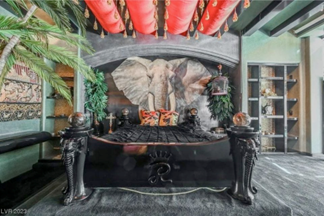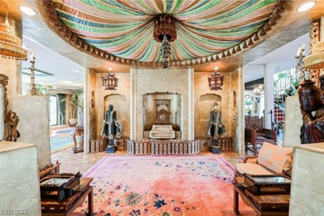 The compound, known as the "Jungle Palace," or "Little Bavaria," is comprised of multiple parcels spanning over 8 acres, and includes other charming homes, with two guesthouses each equipped with their own pools.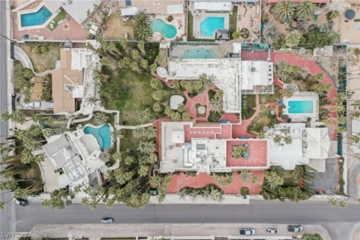 The landscaped grounds are adorned with a magnificent water fountain, extensive statuary, and mature palm trees, providing an idyllic ambiance and serenity. Statues and paintings of majestic big cats still adorn the property, a testament to their cherished companionship with white lions and tigers, which once roamed freely … and even shared Roy's bed.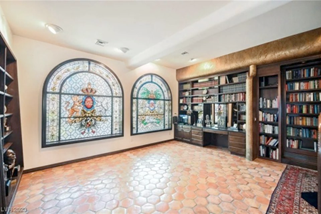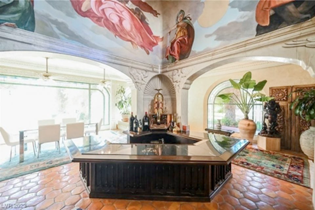 Paved paths gracefully connect the various residences, while six electric gates secure the compound. Visitors will also find ample space in the ten-car garage.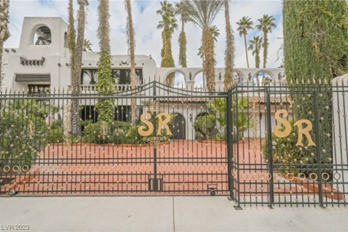 Animal lovers will be enthralled by the presence of a bird sanctuary, cat sanctuary, and numerous animal enclosures, offering a unique opportunity to create an extraordinary experience. This distinctive property is perfect for those with a passion for the circus and an appreciation for the wonders of the natural world.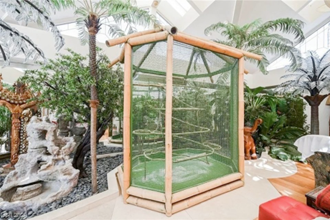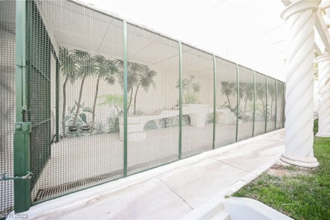 After capturing the world's attention with their dazzling stage show featuring tigers, the duo made Las Vegas their home, (purchasing the compound in 1982), and headlined at The Mirage for over a decade. However, a tragic incident led to the show's closure, and the eventual sale of their remarkable Vegas residence.
Situated a mere fifteen miles from the famous Las Vegas Strip, the compound provides easy access to premier casinos, resorts, and live entertainment venues. Additionally, outdoor enthusiasts can indulge in nearby attractions, such as Red Rock Canyon National Park, the Tule Springs Fossil Beds, and the Las Vegas Paiute Golf Resort. Other notable residents include Celine Dion, Floyd Mayweather Jr., Penn & Teller, and Nicolas Cage.
The property recently sold for $3 million to Brett Carden, owner of the Carden International Circus.
Source: https://toptenrealestatedeals.com/weekly-ten-best-home-deals/home/tour-siegfried-and-roys-amazing-las-vegas-compound
Photo Credit: eXp Realty
# # #
Want to see more? Check this out!
Magicians Siegfried Fischbacher and Roy Horn, known professionally as Siegfried and Roy, met while working on the same cruise ship. They soon turned their mutual love of animals into a dazzling stage show featuring tigers and toured the European club circuit.
Invited to perform in Vegas in 1967, they made the city their home for the rest of their lives. The duo headlined at the Mirage from 1990 to 2003. The Mirage show was famous for featuring white lions and tigers but was closed when one of the tigers mauled Roy during the show.
Siegfried succumbed to Covid-19 in 2020, and Roy's death from cancer followed shortly afterward, prompting the sale of their spectacular Vegas compound.