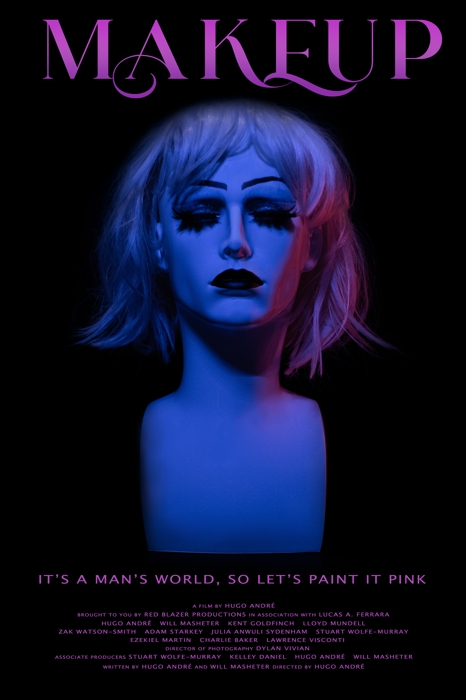 CENT MAGAZINE REVIEWS HUGO ANDRE'S MAKEUP
Our thanks to Chloe Mercier-Legros, at UK-based CENT MAGAZINE, for her great review of our upcoming feature film MAKEUP.
▫️
While you'll find the entire review at https://centmagazine.co.uk/transformative-touch/, here's an excerpt from Chloe's piece:
▫️
"In a world where appearances often shape our perceptions, the power of makeup is transcending, offering a transformative journey that can uncover hidden truths and forge unlikely connections. In the movie "Makeup," written and produced by Hugo André and Will Masheter, is told the story of Sacha, a quiet French ex-chef, and Dan, a well-respected London stockbroker with a secret desire to become a burlesque dancer.
*
The profound impact that makeup can have on individuals from different walks of life is exemplified as we delve into their tale of self-discovery and friendship. The remarkable potential of makeup to empower and reveal the authentic selves that lie beneath the surface is unveiled.
*
For Dan, makeup is a transformative tool that allows him to express creativity, convey emotions, and ultimately feel more confident and empowered than he ever has been in his "alpha male" lifestyle.
*
Through their shared journey, we witness the remarkable ability of makeup to allow individuals to break free from societal constraints, embrace their passions, and form unlikely friendships."
▫️
This compelling film will be available via all major streaming services, such as iTunes, Amazon and Facebook, beginning June 26th, in the United Kingdom, and on June 27th, worldwide.
▫️
Need a freshening up? Give our MAKEUP a try!
CLICK HERE FOR A LIST OF STREAMING SERVICES CURRENTLY PROVIDING ACCESS TO THE FILM!
.
.
.
#lucasaferrara @hugoandre_media @will_and_film @redblazerproductions @freestyledigitalmedia @strikemediaglobal @centmag
.
.
.
#makeup #movie #movies #feature #featurefilm #film #films #drama #dramas #comedy #dramedy #friendship #friendships #acceptance #tolerance #toxicmasculinity #transgender #transphobia #queer #lgbt #lgbtq #lgbtqia #crossdresser #crossdressing