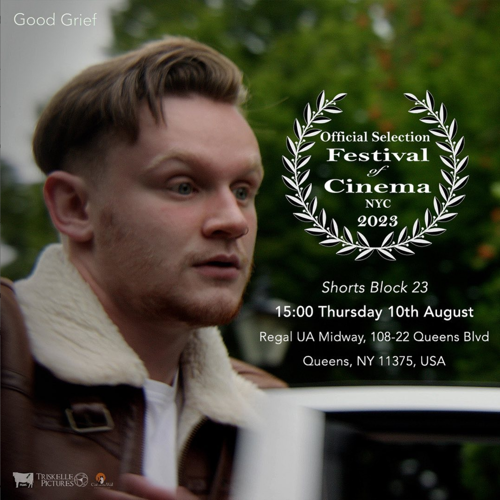 FESTIVAL OF CINEMA NYC — the only NYC film festival supported by the National Endowment for the Arts, The NYS Council on the Arts, and the NYC Department of Cultural Affairs — seeks to aid "emerging filmmakers get more exposure and media attention, reach larger audiences, and meet other industry professionals who can help further their careers."
▫️
Now in its seventh year, the 2023 festivities will take place from August 4-13, at the Regal UA Midway theatre (Forest Hills), with additional programming at the Queens Library at Forest Hills.
▫️
Among the selections, you'll find GOOD GRIEF, a short written and directed by Rob Sharp. In it, we follow four women who have undergone a loss of a child. "After coming face-to-face with the vast emptiness of their despair, they must make a choice: whether to give in to the agony, or fight to rebuild their lives. Or will a third option present itself, when they learn the importance and true meaning of grief?" (You'll have to attend the festival to find out.)
▫️
For additional info, visit: https://www.festivalofcinemanyc.com/
▫️
Special thanks to the festival's organizers, judges, and sponsors. And congrats to our cast and crew. (Their IG tags follow.)
▫️
CAST
▫️
vicky.mcclure, @abigailnaomimay, @bethanyasheractor, @mercedesassad_, @princess_solaya, @jazminanthony, @kat_taylorsmith, @_linwin, @kitandtell, @kavitav22, @daniel_poppitt
▫️
CREW
▫️
Produced by @sirloinfilms @triskellepictures @catonthewallproductions
Presented by @foreverstarscharity
Producer @sophieblackfilm, @charliecactress
EP: @lucasaferrara
DOP @jononeilldop
1AC @toddfranklinfilm
Sound @eskalia23
HMUA @kjf_makeup
BTS @beaulouisephotography
PA @jethro_randell
▫️
▫️
Come and witness this GOOD GRIEF, for yourself.
.
.
.
# # #
To view a list of Lucas's other projects, click here: https://www.imdb.com/name/nm11739610/
# # #
#lucasaferrara #miscarriage #miscarriages #baby #babies #grief #goodgrief #short #robsharp #vickymcclure #indiefilm #indiefilms #movie #movies #film #films #indiemovie #independentfilm #sirloinfilms #independentfilms #britishfilm #britishfilmmaker #loss #child #britishfilmmaking #children #grieving #filmfestival #filmfestivals