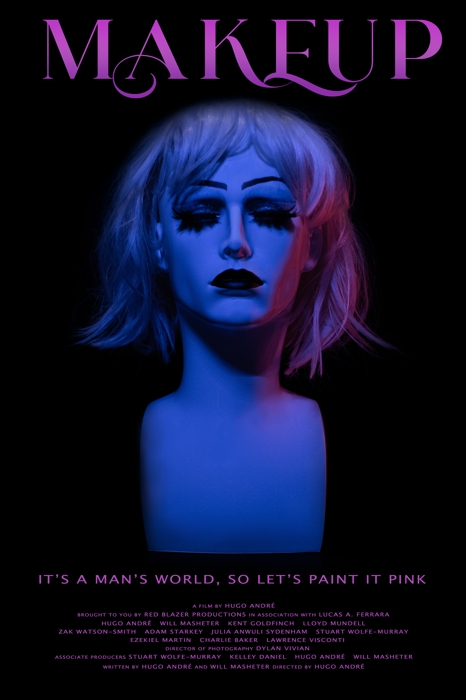 On Thursday, July 6, 2023, SCREEN RANT — the Internet's "#1 Movie News & Entertainment site" with some 8 million viewers from across the globe — exclusively premiered a behind-the-scenes video about the making of our award-winning film, MAKEUP.
▫️
As content producer Rachel Foertsch [@realrayrays] noted in her report, "[This] comedy-drama follows French food critic, Sacha, who rents a room from London stockbroker, Dan, and tells the story of two seemingly opposite people finding friendship in the last place they'd expect. Introverted and content with flying under the radar, Sacha is caught off guard when his roommate confesses his aspirations of becoming a burlesque dancer. Dan, on the other hand, is worried about the opinions of those who perceive him in a different light and hopes that Sacha will offer him the support he desperately needs."
▫️
"Makeup touches on several topics surrounding gender identity and mental health, but friendship and acceptance are at its heart."
▫️
"In addition to playing Sacha, Hugo André is the writer and director …. Will Masheter serves as André's acting and writing partner, with Lucas A. Ferrara onboard as the executive producer. Makeup is currently available worldwide on platforms such as Prime Video, iTunes/Apple TV, AT&T U-Verse, DirecTV Dish Network, Sling TV, On Demand, Vubiquity Hoopla, Vudu Xbox, Google Play, and YouTube Movies."
▫️
"Distributed by Freestyle Digital Media, Makeup is Red Blazer Productions' first full-length feature … [with a] runtime of 90 minutes."
#
To view this exclusive story, please use this link: https://screenrant.com/makeup-movie-hugo-andre-will-masheter-bts-video/
#
We're sure you'll find this MAKEUP refreshing … and revitalizing ….
.
.
.
.
.
#lucasaferrara @makeup_movie_2023 @octobercoastpr @redblazerproductions @hugoandre_media @will_and_film @strikemediaglobal @freestyledigitalmedia @realrayrays
.
.
.
#makeup #movie #movies #feature #featurefilm #film #films #drama #dramas #comedy #dramedy #friendship #friendships #acceptance #tolerance #toxicmasculinity #transgender #transphobia #queer #lgbt #lgbtq #lgbtqia #crossdresser #crossdressing