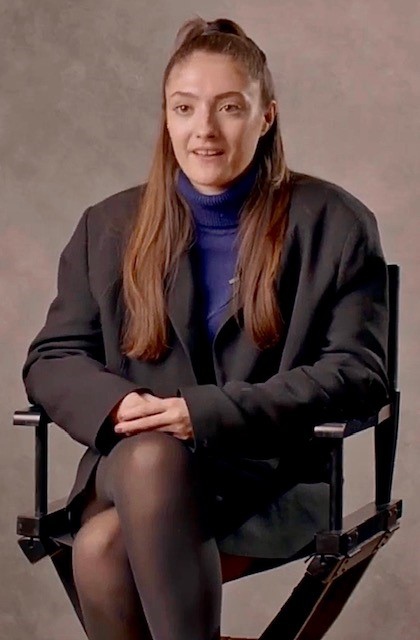 Broken Flames Productions — an award-winning film studio headed by Ella Greenwood, a Forbes "30 under 30" honoree — has had its work screened at BAFTA and Academy Qualifying festivals across the globe. In addition to filming in such locations as London and Los Angeles, the team has worked with a wide range of top talent, from BAFTA and Olivier Awards winners to up-and-coming young creatives.
▫️
Maya Bartley O'Dea serves as a Co-Director and Lead Producer at Broken Flames, spearheading the development of the company's latest projects, including features, documentaries, and TV shows. She also serves as co-Director of the "Lucas A Ferrara Film Fund."
▫️
In this clip, Maya shares her thoughts about the Film Fund's first project, BIBIMBIP FOR ONE, which was written by Daniel Kaszas, and directed by Ella. The piece — about coping with grief and loss and finding solace in unexpected encounters which offer hope — is currently screening at select festivals worldwide. (We'll be announcing another selection, soon.)
▫️
In the interim, a special note of thanks to our cast and crew for helping make this compelling film a reality.
▫️
CAST
@ioannakimbook
Alexander James Simon
▫️
CREW
Director - @popsella
Writer - @daniel.kaszas.97
Producer - @lucasaferrara
Assistant Producer - @maya_bod
Cinematographer- @xeniaxpatricia
Editor - @editor_emmalie
Composer - @gabyamblercomposer
Colourist- @chris.shaw.colour
Sound Design - @_inesadriana_
Casting Director - @frankie_fearis12
Makeup Artist - morganemakeup11
Costume Designer - @tegantime
Production Designer - Junting Yang
1st AD - @esmeehuguenin
1st AC - @oscarharrisonfilm
2nd AC - @nizah_e
Sound Recordist - @rufusambler
Gaffer - @zetaspy
Spark - Wenxuan Xu
BTS photographer - @ines_hachou
Thanks to @focus24hire @leanneladbury
▫️
Now let's make scene!
.
.
#
To view a list of Lucas's other projects, click here: https://www.imdb.com/name/nm11739610
#
#lucasaferrara #movies #movie #film #films #shortfilm #shortfilms #drama #dramas #filmmaker #filmmaking #actor #actors #director #directing #mentalhealth #depression #food #asianfood #koreanfood #bibimbap #femaledirector #bibimbapforone #foodie #foodies #moviemaker #moviemakers #moviemaking