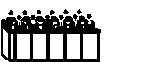 WHAT'S "OFFENDING" ARE THE FACTS HERE
Injured in a car accident, Lilleth Kellyman filed suit. And after a jury found Rossia & Benjamin Poch liable for the incident, Rossia (the vehicle's owner), and Benjamin (the driver), asked the judge to aside the verdict and to dismiss so much of the case that had been brought against them.
After a Kings County judge granted that request, Lilleth appealed. And while it viewed the evidence in a light most favorable to her, the Appellate Term, Second Department, still found some considerable problems with her case. Among other things, Lilleth testified that the "offending vehicle" was a white or cream-colored Jeep. But the Pochs drove a blue compact. There was no evidence that the license plate number of the offending vehicle matched that of the Pochs' car. Nor was there any evidence that Benjamin Poch was driver of the vehicle that hit Lilleth.
Given those impediments, the AT2 thought the motion was providently decided by the court below and allowed the dismissal to stand.
Do you think someone was sleeping at the wheel here?
# # #
DECISION