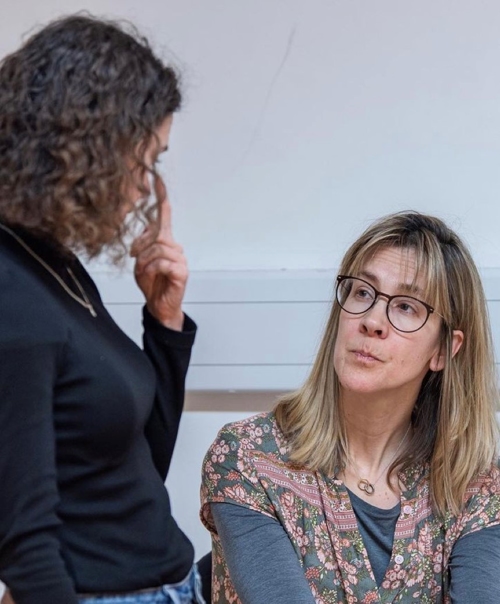 Jo Harper -- writer of a new play, called THE BEACH HOUSE, which will be running at the Park Theatre (London), from February 15 to March 11 -- was recently interviewed by Hinton Magazine. Here are a few (edited) snippets from that Q&A:
Can you tell us about The Beach House?
It's a three hander, a drama and a love triangle with three complex female protagonists.
Liv and Kate move to the seaside to have their first child and find an old house near the beach that offers so much promise. Biological mum Kate plans to go back to work and leave the baby at home with songwriter Liv. But Liv struggles with her new identity as full-time mum, she can't write and becomes distracted by Kate's younger sister Jenny who keeps turning. We follow the women as they respond to motherhood, sibling rivalry and a big betrayal.
How did you get involved in the project/ what drew you to it?
The play is inspired by my own experience of new motherhood, by women I know and by my ongoing fascination with female sexuality and relationships. At the heart of the play is an intense and rivalrous relationship between two sisters. A relationship I know from my own experience. I wanted to write a play about love between women that is challenging and complicated and enduring.
Can you describe the show in 3 words?
Cliff-edge tender drama.
# # #
For ticket information, visit: https://parktheatre.co.uk/whats-on/the-beach-house
# # #
# # #
With special thanks to our cast and crew:
CAST
KATHRYN BOND | KATE
GEMMA LAWRENCE | LIV
GEMMA BARNETT | JENNY
CREW
WRITER | JO HARPER
DIRECTOR IBETHANY PITTS
DRAMATURG IYAËL SHAVIT
SET AND COSTUME DESIGNER ICARA EVANS
LIGHTING DESIGNER I LAURA HOWARD
SOUND DESIGNER AND COMPOSER I HOLLY KHAN
CASTING DIRECTOR I TOM WRIGHT
INTIMACY COORDINATOR I LOU KEMPTON
PRODUCTION MANAGERS I RACHEL MORRIS AND IAM BRAME
COMPANY STAGE MANAGER I KAT TURGOOSE
LX AND SOUND OP I AMY ELLIS-HALL
PRODUCTION CARPENTER I RICHY PATERSON

PRODUCER | GRACE NELDER
EXECUTIVE PRODUCER I LUCAS A. FERRARA
PRODUCING TEAM I SASHA EASTABROOK, LAURA WHITE
CONSULTING PRODUCER I BECCA ROWSON
MARKETING I ANNA LAWSON AND EMMA NELDER
POSTER I PETE STARLING
GRAPHICS ASSISTANT I JAMES PARSON
PHOTOGRAPHY I DAN POOLE AND JULIAN BRUTON
REHEARSAL AND PRODUCTION PHOTOGRAPHY| DAVID MONTEITH-HODGE

REHEARSAL SPACE I CENTRE 151
SOUND EQUIPMENT I AUTOGRAPH SOUND
.
.
.
#lucasaferrara @joharperdoyle @beth.pitts @gracenelder @tomwrightious @thebeachhouseplay @misskathrynbond @gemlbarn
.
.
.
#play #drama #dramas #theatre #londontheatre #parktheatrelondon #relationships #actors #actresses #playwright #director #directing #producer #producers #show #performance #love #lgbt #lgbtq #gay #gayrelationship #lover #lovers #partner #partners #acting #stage #performance