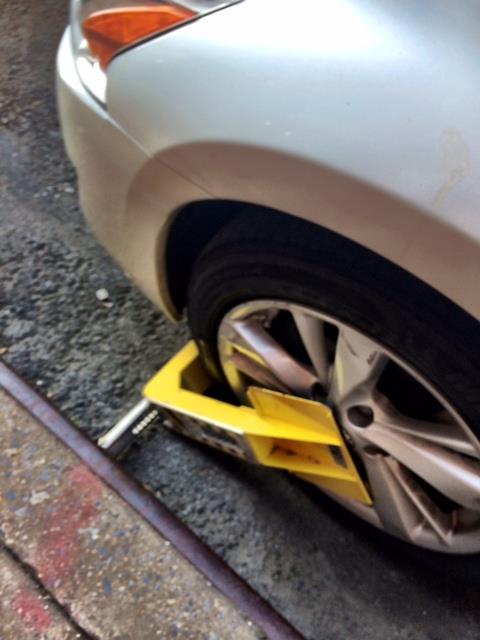 TIME TO UN-BOOT SOME CASH!
Booting is the practice of immobilizing vehicles by placing wheel locks, also known as "boots," on illegally parked cars. However, under New York City law, companies engaged in such practice for private owners, (in private parking lots, for example), are only permitted to charge up to $25 (maximum) for the removal of the devices.
If a wheel lock was placed on your vehicle, while parked at a listed Home Depot, and were charged in excess of $25, this could be your lucky day!
The New York City Department of Consumer and Worker Protection (DCWP) is allowing those who were overcharged, between 2021 and 2022, to file a Settlement Fund Claim Form for a possible refund.
If you were improperly charged, you have until July 19, 2023 to take advantage of the DCWP's offer, but you must meet the following eligibility criteria:
If your car was booted by any of the following companies:

B & M Electronic Diagnostic Repair Service Inc. d/b/a B & M Towing Inc. (DCWP license number 0929938-DCA),
B & M Electronic Diagnostic Repair Service Inc. (DCWP license number 2084752-DCA), or
NY Booting (DCWP license number 2098438- DCA),

During the years:

2021, or
2022,

At any of the following Home Depot parking lots:

92-30 168th Street, Jamaica, NY 11433
73-01 25th Avenue, East Elmhurst, NY 11369
131-35 Avery Avenue, Flushing, NY 11355
112-20 Rockaway Boulevard, South Ozone Park, NY 11420
75-09 Woodhaven Boulevard, Glendale, NY 11385
132-20 Merrick Boulevard, Jamaica, NY 11434
50-10 Northern Boulevard, Long Island City, NY 11101
124-04 31st Avenue, Flushing, NY 11354
59-15 Maurice Avenue, Maspeth, NY 11378
579 Gateway Drive, Brooklyn, NY 11239

And were charged above the legal amount of $25.
To learn more, click on the announcement link below, and file the Settlement Fund Claim Form before all the cash is gone!
Ironically, if you miss that July 19, 2023 deadline, you may get the boot ... again.
# # #
SOURCES