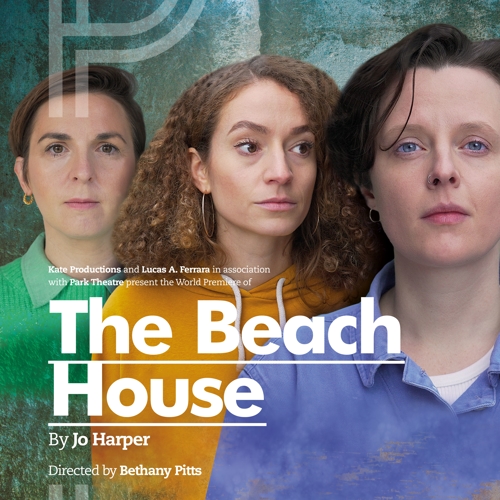 THE BEACH HOUSE, an endearing, new play written by Jo Harper, and directed by Bethany Pitts, is running NOW -- from February 15 through March 11 -- at the Park Theatre (London).
This work explores the lives of three women navigating queer parenthood, love and family chaos.
Having moved out of the city to raise their baby, their sea house is supposed to be a peaceful new start for Liv and Kate. But Liv, the stay-at-home mother, is a songwriter-in-crisis, who's too distracted to write, while Kate, who's just had a baby, needs to go back to work to restore some order to her life. And then there's Liv's sister, Jenny, who, despite wanting to distance herself from her overbearing sibling, finds herself being drawn back to the beach house time-and-time again.
I'm honored to be working with Jo, Bethany, Grace Nelder (co-producer), Thomas Wright (casting), and our performers, GEMMA BARNETT, KATHRYN BOND & GEMMA LAWRENCE, on this special piece.
For show dates and times, visit: https://parktheatre.co.uk/whats-on/the-beach-house
Come join us!   (And don't forget your bathing suits.)
# # #
With special thanks to our crew:
DRAMATURG: YAËL SHAVIT
SET AND COSTUME DESIGNER: CARA EVANS
LIGHTING DESIGNER: LAURA HOWARD
SOUND DESIGNER AND COMPOSER: HOLLY KHAN
CASTING DIRECTOR: TOM WRIGHT
INTIMACY COORDINATOR: LOU KEMPTON
PRODUCTION MANAGERS: RACHEL MORRIS AND IAM BRAME
COMPANY STAGE MANAGER: KAT TURGOOSE
LX AND SOUND OP: AMY ELLIS-HALL
PRODUCTION CARPENTER: RICHY PATERSON
PRODUCING TEAM: SASHA EASTABROOK, LAURA WHITE
CONSULTING PRODUCER: BECCA ROWSON
MARKETING: ANNA LAWSON AND EMMA NELDER
# # #
#lucasaferrara @joharperdoyle @beth.pitts @gracenelder @tomwrightious @thebeachhouseplay @misskathrynbond @gemlbarn
.
.
.
#play #drama #dramas #theatre #londontheatre #parktheatrelondon #relationships #actors #actresses #playwright #director #directing #producer #producers #show #performance #love #lgbt #lgbtq #gay #gayrelationship #lover #lovers #partner #partners #acting #stage #performance