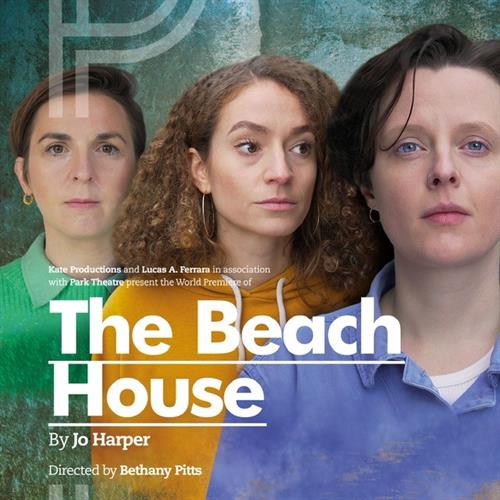 THE CRITICS HAVE SPOKEN!
The reviews are in ... and Jo Harper's endearing new drama, THE BEACH HOUSE, which is playing at THE PARK THEATRE (London) until March 11, 2023 ... is a HIT!
In addition to seeing and hearing -- in the accompanying clip -- how members of the audience reacted to the show, here's the feedback we received from a few different publications:
"Harper views motherhood from three different angles. Jenny's begrudging renunciation, Liv's embracing of it, and Kate's ultimately complicated tie to it. It's a gentle exploration of female relationships and the inescapable tragedy of feeling."
#
"Jo Harper's script feels original and current, while Bethany Pitts' direction takes us through this world efficiently, with an inventive touch; the water that is constantly dripping from the rooftop into the bucket is especially brilliant. The sound effects round it all up nicely, and we can just about picture the breezy beach house and its idyllic landscape with the beach in the distance. This seemingly perfect place is the ideal backdrop for this story, as it makes the whole thing even more heart-breaking. And it is so worth it."
#
"This openness to explore the characters' difficult decisions and interactions is what really sets it apart from other plays dealing with infidelity. Its focus on three fully evolved female characters with all the richness and complexity that exists in these intense types of relationships (romantic, familial, parental), and the exploration of themes more commonly found in stories with men, only adds to its attraction as a piece of art."
#
"All in all, The Beach Houseis a good pick: well acted, conveyed simply, and a compelling meditation on the fragility of female relationships."
Better hurry and join us at THE BEACH HOUSE before we close for the season!
For additional info visit: https://parktheatre.co.uk/whats-on/the-beach-house
.
.
#lucasaferrara @joharperdoyle @beth.pitts @gracenelder @tomwrightious @thebeachhouseplay @deadpoolepoole
.
.
.
#play #drama #dramas #theatre #londontheatre #parktheatrelondon #relationships #actors #actresses #playwright #director #directing #producer #producers #show #performance #love #lgbt #lgbtq #gay #gayrelationship #lover #lovers #partner #partners #acting #stage #performance
___
VIDEO CREDIT:  DAN POOLE -- TIMEBOMB PICTURES