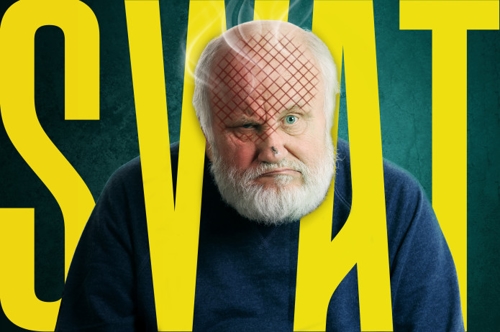 It's no secret that the common housefly is a foe to humanity. Research shows that these creatures can carry up to 351 different types of bacteria which can be harmful to people – with some capable of leaving disease-causing organisms which cause bloodstream infections, diarrhea, food poisoning and meningitis, and can spread cholera, bacillary dysentery, hepatitis, and typhoid fever.
▫️
So, not surprisingly, most of us view these flying pests with considerable disdain — particularly when they enter our homes, uninvited. Hence the premise of "SWAT," a new comedy written and directed by Sam Coombes. In this film, we witness a mature gentleman going to considerable lengths to kill a pesky fly. As Sam puts it, it's "an explosive territorial brawl between man and beast. But who will be victorious?"
▫️
You can find out by attending the Oxford Film Festival, which is being held from March 1-5, 2023, as "SWAT" will be among the 100+ films (from across the globe) that have been selected to compete. Identified as a "Top 50" event, this amazing Mississippi-based, non-profit has been "committed to the art of independent cinema" for some 20 years. For more info, visit: https://www.ox-film.com/
▫️
Of course, we extend our thanks not only to everyone at OXFILM but to our star, James Graeme, and to our crew for their efforts here:
▫️
CAST
James Graeme @jimgraeme
▫️
CREW
Writer/Director/DOP: Sam Coombes @samcoombesdp
A.D.: Sam Daniels @samuel.jdaniels
Music: @chroma_fi
Colourist: Hannah Squires @hansquires
Prod Design: Elli Kypriadis @ellikypriadis
Ass't Design: Ruby Eliza Taylor
Set Ass't: Mckenzie Slomp @mayvnblog
Lighting Design: Craig Shepherd @vanshepsnaps
Location: Fernhill Farm @fernhillfarm1
Makeup: Alana Ashley @alanamua
▫️
Don't miss this opportunity to take a shot … on SWAT!
.
# # #
To view a list of Lucas's other projects, click here: https://www.imdb.com/name/nm11739610/
# # #
#lucasaferrara @samcoombesdp @swatshort @oxfilm_ms #fly #flies #pests #comedy #comedies #movie #movies #film #films #flyswatter #indiefilm #indiefilms #filmmaking #producer #filmmaker #filmmakers #director #directors #shortfilm #shortfilms #independentfilm #short #shorts #independentfilms #directing #filmfestival #festival #oxfilm