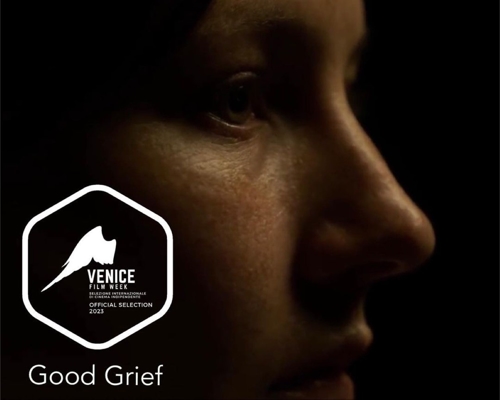 Now in its eighth year, Venice Film Week showcases "independent films with an edge." Created "by independent filmmakers, for independent filmmakers," its purpose is to provide a forum for screening the work of "new and upcoming talent," with its focus being on "the unconventional, the unusual, the underground, the intuitive, the innovative, the minimalistic and the true artists of our time."
Beginning today, August 21, through the 26th, among the offerings screening at this year's event – which is being held at La Casa del Cinema, Palazzo Mocenigo, Venezia – you'll find GOOD GRIEF, a short film written and directed by Rob Sharp. In it, we follow four women who have undergone a loss of a child. "After coming face-to-face with the vast emptiness of their despair, they must make a choice: whether to give in to the agony or fight to rebuild their lives. Or will a third option present itself, when they learn the importance and true meaning of grief?" (You'll have to attend the festival to find out.)
For additional information visit: https://www.venicefilmweek.org/
Special thanks to the festival's organizers, judges, and sponsors. And congrats to our cast and crew. (Their Instagram tags follow.)
✨
CAST
vicky.mcclure, @abigailnaomimay, @bethanyasheractor, @mercedesassad_, @princess_solaya, @jazminanthony, @kat_taylorsmith, @_linwin, @kitandtell, @kavitav22, @daniel_poppitt
✨
CREW
Produced by @sirloinfilms @triskellepictures @catonthewallproductions
Presented by @foreverstarscharity
Producer @sophieblackfilm, @charliecactress
EP: @lucasaferrara
DOP @jononeilldop
1AC @toddfranklinfilm
Sound @eskalia23
HMUA @kjf_makeup
BTS @beaulouisephotography
PA @jethro_randell
▫️
Come and witness our GOOD GRIEF, firsthand.
# # #
To view a list of Lucas's other projects, click here: https://www.imdb.com/name/nm11739610/
# # #
#lucasaferrara #miscarriage #miscarriages #baby #babies #grief #goodgrief #short #robsharp #vickymcclure #indiefilm #indiefilms #movie #movies #film #films #indiemovie #independentfilm #sirloinfilms #independentfilms #britishfilm #britishfilmmaker #loss #child #britishfilmmaking #children #grieving #filmfestival #filmfestivals